Trauma stars John Simm and Adrian Lester: It's a thrilling ride from the man behind Doctor Foster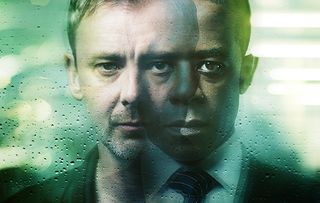 John Simm and Adrian Lester are two warring fathers driven to the edge in Trauma, a gripping thriller from the writer of Doctor Foster
A dangerous game of blame, shame and retribution plays out on ITV next week in new psychological thriller Trauma, written by Doctor Foster creator Mike Bartlett and featuring John Simm.
Airing over three consecutive nights, Trauma follows high-flying surgeon Jon Allerton (former Hustle star Adrian Lester), whose perfect life falls apart when a 15-year-old stabbing victim, Alex Bowker (Albie Marber), lands on his operating table.
Unable to save him, Jon is continuously questioned and harassed by the teenager's devastated dad, Dan Bowker (Doctor Who actor John Simm), who holds him personally responsible for Alex's death.
As Dan slowly infiltrates Jon's life, a dangerous psychological warfare plays out between the two men, but how far will Dan go to seek his own justice?
We spoke to John Simm, 47, and Adrian, 49, to find out more about ITV thriller Trauma
What appealed to you about Trauma?
John: "I'm a big fan of Mike Bartlett's work, so when I read the script, even though it was harrowing, I found the conflict between the two main characters so interesting."
Adrian: "Mike's writing is brilliant and this story is great. In fact, I said 'yes' before I'd even read how it ends!"
Can you tell us more about the characters you play?
John: "Dan is a blue-collar factory worker, who loves his wife and three children. He's proud, very astute and he seems like a decent guy, but then his son is killed and his world falls apart. He's devastated and looking for someone to blame."
Adrian: "Jon is a successful, happily married trauma surgeon at a major London hospital. He's well off and lives in an amazing house with his family, but nothing has been handed to him on a plate. He's worked hard his whole life, so he's self-made, secure and happy – until he meets Dan…"
How do they both begin to unravel?
John: "There's a moment at the hospital when Dan finds himself in the operating theatre and sees Jon with his son's heart in his hands. Dan thinks he sees a flicker of panic in Jon's eyes, and after that, he firmly believes either a mistake was made or Jon is lying to him. He won't let it go and it's the beginning of a downward spiral."
Adrian: "Dan tracks Jon down and follows him, and he begins to destroy Jon's confidence by constantly calling him a liar and saying he's not good enough. It begins to trickle through his life, and his wife Lisa (Rowena King) is a psychiatrist so she knows something is wrong."
Is Dan also jealous of Jon's well-to-do lifestyle?
John: "They're from very different social backgrounds, which adds to the conflict. Dan feels like a nobody, but the disparity between his life and Jon's isn't what drives him. It begins in some way to disgust him, so there is an element of pure jealousy, but Dan is driven by a profound sense of injustice, all the while being consumed by grief."
Adrian: "Dan has a chip on his shoulder when he meets someone like Jon because he thinks he's had it easy, but Jon started out as a junior doctor being paid nothing and doing exam after exam. So the drama asks should we judge someone, like Dan does, for what they've achieved in life?"
Whose side will viewers take?
John: "There's no good or bad guy; it's not that simplistic. They're just people caught in a traumatic situation and you'll hopefully flip-flop between sides."
Adrian: "I think allegiances will switch. Jon is a good man and a respected professional, so even though Dan is suffering this awful grief, you'll think he's being unreasonable. But as the story unfolds, it makes you question the trust we have in professionals and institutions like hospitals. Do you just accept what they say, or if you believe there is injustice, do you pursue it?"
How did you prepare for such intense roles?
Adrian: "There was a lot of choreography involved in the trauma scenes, and because the stakes are so high, an actor might want to play all the drama in that, but real-life surgeons have to be calm. Hopefully if any surgeons are watching they'll think we got it right."
John: "Dan is a father and so am I. My son was 15 years old while we were filming so I tried to convey the emotions that a father would. I completely understand where Dan is coming from. I've had quite a few painful, grief-stricken roles over the years, but this has been one of the toughest."
Did the war between these two men make you hate each other… just a little bit?
Adrian: "It's been great working with John, but it's hard playing these emotions opposite someone when you have to target them as a negative, dangerous, argumentative person."
John: "It made me hate the character of Jon, but it would be very difficult to hate Adrian Lester! He's one of the nicest people to have ever walked the Earth. He's also a brilliant actor and our scenes together were fabulous to film. The dynamic between these two men is so interesting. It turns into a thrilling ride…"
Trauma airs on ITV, 12-14 February at 9pm
Get the latest updates, reviews and unmissable series to watch and more!
Thank you for signing up to Whattowatch. You will receive a verification email shortly.
There was a problem. Please refresh the page and try again.