Tyler James among the lucky ones on The Voice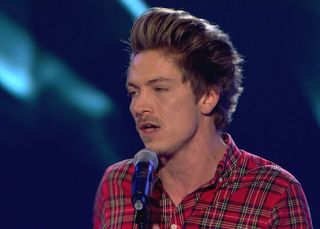 The best friend of pop star Amy Winehouse was among those hopefuls who made their mark on The Voice this Saturday as auditions passed the halfway mark. The 30-year-old - who enjoyed minor chart success in 2005 with the track Closer - openly admitted on the show that the singer's death last summer had "changed everything" for him and said of his audition, "It's very important for me...there's a lot riding on this." And his performance of Otis Redding's Sittin' On The Dock Of The Bay was good enough to win over will.i.am, although the other judges did not turn round. "Through your whole performance you sounded really good and that last falsetto thing you did showed your range and how smooth you can be at the same time," the rapper said. Others who were attempting to return to the spotlight after a brush with the charts included Cassius Henry, who scored a chart hit - and a Top Of The Pops appearance - with the song Broke in 2002. And the 32-year-old won himself a place on Jessie J's team after his performance of Ne-Yo's Closer sparked a bidding war between her and Danny O'Donoghue. "I turned around because there was something in your voice that I really liked," Jessie explained. Saturday night's show also saw success for 21-year-old backing singer Joelle Moses - who eventually chose will.i.am after wowing all four judges with her soulful rendition of Adele's Rolling In The Deep. "I would give my left arm to work with a singer like you," Danny told her, while will said, "I know I don't sing like Jessie or yourself but I know how to work with good singers. I'd like to work with you as an artist." And Lady Catherine Anna Brudenell-Bruce - who calls herself Bo - won herself a place on Danny's team despite a last minute challenge from will.i.am. Will said her performance "was daring and courageous" while Danny added, "One thing I came on the show to find was a unique voice and something that, the second you heard it on the radio, is gonna stand out, and I really firmly believe that you have that type of voice." Welsh singer Hannah Berney also went with Danny following her emotional rendition of Lady Gaga's You and I."You hit those high notes and I could hear that there is a massive voice in there," he told her. Meanwhile Will also added 19-year-old singer Kate Read to his team, while Jessie J's newest recruits included backing singer Kirsten Joy and former X factor auditionee Ruth Ann St Luce. And Tom Jones picked up several more team members including holiday camp worker Leanne Mitchell and redhead Denise Morgan. However not everybody who went before the judges was quite so lucky - with rock singer Nathan James, mother of twins Alys Williams and former Mobo winner Allyson Brown - although Jessie J, who almost turned round for the 29-year-old, admitted afterwards she had been wrong not to. "I'm really sad, you're the girl I'm always going to wish I'd turned around for," she admitted.
Get the latest updates, reviews and unmissable series to watch and more!
Thank you for signing up to Whattowatch. You will receive a verification email shortly.
There was a problem. Please refresh the page and try again.