Vicky McClure to star in Warrington bombing drama Mother's Day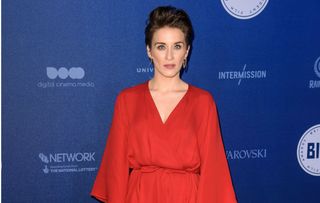 New BBC drama Mother's Day, written by Broken writer Nick Leather, explores the events, aftermath and public response to the Warrington bombing of March 1993.
Line of Duty star Vicky McClure is to star in a new factual drama about the Warrington bombing in 1993.
Written by Nick Leather, Mother's Day focuses on two ordinary women living either side of the Irish Sea, brought together in the wake of the tragedy.
The Warrington bombings were two separate bomb attacks that took place during early 1993. The first attack happened on 26 February, when a bomb exploded at a gas storage facility. It caused extensive damage but no injuries. While fleeing the scene, the bombers shot and injured a police officer and two of them were then caught after a high-speed car chase.
The second attack happened on 20 March, when two small bombs exploded in litter bins outside shops and businesses on Bridge Street. Two children were killed and dozens of people were injured. The IRA was responsible for both attacks.
Anna Maxwell Martin (Motherland, Good Omens) plays Wendy Parry, the mother of 12 year old Tim Parry who lost his life in the second attack. Vicky McClure plays Susan McHugh, the Dublin mother of two so outraged by the loss of young life that she organised one of the largest peace rallies in Irish history, leading thousands through the streets in protest at the continued violence of the Troubles. Daniel Mays (Against The Law, Rogue One) will play Tim's father Colin Parry, with David Wilmot (The Alienist, Black Sails) as Arthur McHugh. Further casting includes Simone Kirby and Conor Mullen.
Anna Maxwell Martin says: "I know that many will recall the bravery and dignity shown by the families affected by the Warrington bombings. It's a real honour to be telling their story."
Vicky McClure says: "Susan McHugh's actions back in 1993 remain just as inspirational today as they were 25 years ago. I feel truly privileged to play her in this incredibly moving new film."
Writer Nick Leather says: "As someone who grew up in Warrington and was on my way into town on the day of the bombing, bringing this astonishing story to the screen has been a career-long mission. Over the last year, I've been fortunate to work with a wonderfully supportive team at the BBC, including the director Fergus O'Brien, and have found the Parry and McHugh families to be even more inspiring than I did as a kid. I hope people are as moved and affected by this drama as we have been making it."
Get the latest updates, reviews and unmissable series to watch and more!
Thank you for signing up to Whattowatch. You will receive a verification email shortly.
There was a problem. Please refresh the page and try again.