WATCH: The greatest Strictly Come Dancing performances of all time (VIDEO)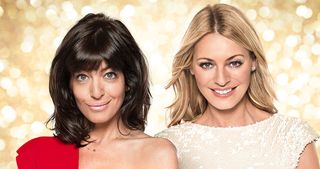 (Image credit: BBC/Ray Burmiston)
Strictly Come Dancing returned to our screens last night and boy are we glad it's back. It had everything - glamour, sequins, fabulous new host Claudia Winkleman, a dazzling group dance and Alison Hammond saying 'glitter' 46 times. To fill the void between now and Friday 26th September, we've selected the ultimate Strictly dances - the finest performances of all time. No arguments, please. Enjoy!
THE SALSA: Abbey Clancy and Aljaž Škorjanec
http://youtube.com/v/ispdxhYEFn8
Abbey and Aljaž were last year's deserved winners and it was their epic salsa that firmly cemented their victory. It had everything: disco trotting, disco skirt-swooshing, disco gun pointing, disco high kicks and disco daredevil lifts. It also had one of the greatest closing moves of any Strictly dance.
THE AMERICAN SMOOTH: Natalie Gumede and Artem Chigvintsev
http://youtube.com/v/awW4Z0eEOms
Right, our next couple is Natalie Gumede and her partner Artem. With this unforgettable Smooth, we thought they might steal the trophy from Abbey and Aljaž last year. The drama and passion were off the scale, so much so we were a little worried Natalie's face might implode. They mirrored each other beautifully and they did it again for us in the grand final. Shout out to 'Dave Arch and his 'wonderful wonderful orchestra' (and singers) too. Just look at the way she slings herself at him at the end! Blimey.
THE JIVE: Jill Halfpenny and Darren Bennett


http://youtube.com/v/Yj1cX6QU9sQ
Luckily the Strictly sequins budget has come a long way since series two, when they put poor ol' Jill Halfpenny in this hot pink frock and black choker combo. Jill was determined that we wouldn't notice, though, and danced her heart out, covering the entire Blackpool Tower Ballroom with jive kicks. There have been some incredible jives across the 11 series of Strictly - honourable mentions to Louis Smith, Chelsee Healey and Scott Maslen - but Jill and Darren's still remains our firm favourite.
THE FOXTROT: Rachel Stevens and Vincent Simone
http://youtube.com/v/AZCdtrc5B3U
Rachel and Vincent were brilliant. They probably should have won Series 6 back in 2008, to be honest. Their tango was electric; their waltz was stunning. But it was their foxtrot that we remember them for: a dazzling routine that was the first foxtrot to earn the big 4-0 in the history of Strictly (and also earned the more sought after 'FAB-YOU-LESS!' from Craig).
THE CHA CHA CHA: Alesha Dixon and Matthew Cutler
http://youtube.com/v/CN3Re1AFP-0
Again, the Char-Char-Char (Craig's words, not ours) has given us some classic Strictly routines. But who can forget Britain's answer to Beyoncé performing hers to Crazy in Love? THE ARMS! THE LEGS! THE CHEMISTRY! THE SPLITS! We only allow ourselves to watch it once a year out of fear of overheating at our desks.
THE PASO DOBLE: Susanna Reid and Kevin "from Grimsby" Clifton
http://youtube.com/v/7ONCE5aGfaQ
Well, we never saw this coming. Susanna didn't disappointed on the dance floor, but this traditional Paso danced straight into our hearts. It was so passionate and so dramatic that we thought Susanna and Kevin might actually start fighting at one point. Whoever decided to cover Susanna in lipstick and put Kevin from Grimsby in taleguillas is a genius. Susanna's pouting face throughout, where she looks like she's sucking on a lemon, is the perfect pick-me-up.
THE CHA-CHA TANGO DANCE FUSION: Kimberley Walsh and Pasha Kovalev
http://youtube.com/v/MaXMj-Y4UWk
Dance Fusion week was one of our favourites, and we pray that it returns this series. As soon as we saw Kim in that red frock and It's Raining Men started, we were ready to get absolutely soaking wet with her. The cha cha cha and tango were the perfect combination for this racy routine: it's a one-minute-and-forty-two-seconds pouting and smiling rollercoaster. We tried to practise it in our living rooms but it didn't really work out.
THE TANGO: Denise Van Outen and James Jordan
http://youtube.com/v/fS-ZzRTfM5M
Nobody quite mastered the sassy head flick or tango high kick like DVO in this racy clip. It was her finest performance when she appeared in Series 10 - she deserved full marks for the purple lipstick and giant quiff alone, no?
THE QUICKSTEP: Harry Judd and Aliona Vilani
http://youtube.com/v/FRwndLT8xFg
We're back in that Tower Ballroom again for Harry and Aliona's Grand Finale dance. We'd watch the diminutive pop star transform from shy guy to bona fide dance floor hero, and with Aliona he covered the entire floor with this raucous, fast-paced quickstep. The audience gave them a well deserved standing ovation.
THE SAMBA: Lisa Riley and Robin Windsor
http://youtube.com/v/YrsLvGBFiHU
Again, honorary mentions to Abbey and Aljaž and Matt Baker's glutes, but the samba belongs to Lisa Riley. It was at Wembley Arena, on a light up dance floor; Robin was oiled up and Lisa was dressed up like a rotating car wash brush. What's not to love? It's probably the most fun you'll ever see anybody have (God, we miss Lisa) and just as we were about to scream and cheer anyway, she did the splits. THE SPLITS! TV Gold, right there.
THE WALTZ: Matt Di Angelo and Flavia Cacace
http://youtube.com/v/Ul4AmU44-Go
There are few Strictly performances more beautiful than EastEnders' dreamboat Matt's finale waltz with Flavia, which clocked them a full 40 points. It's the perfect example of the music, costumes and dancers coming together magically. Could somebody pass the tissues? Also, you could totally tell Matt was turning on the charm off the dancefloor as well as on. Wonderful.
THE ARGENTINE TANGO: Jason Donovan and Kristina Rihanoff

http://youtube.com/v/7KMIYbazWlk

We still can't quite believe how brilliantly Jason Donovan performed on Series 9 back in 2011. He was one of the most consistent dancers, and his Argentine tango with Kristina secured them their place in the grand final. It was everything the Argentine tango should be - dead serious faces, high kicks and passionate drama.
THE RUMBA: Kara Tointon and Artem Chigvintsev
http://youtube.com/v/lQLODYQBVJg
To be honest, we can take or leave the Rumba - also known as the most boring of Latin dances. In the end, we've gone with Kara and Artem, because it was a bit like we'd been invited into their bedroom for two minutes - what Kara does with her legs is actually illegal in several countries. Anyway. NEXT!
THE VIENNESE WALTZ: Pamela Stephenson and James Jordan
http://youtube.com/v/3QNY2SQcE7o
On movie night back in 2010, live from Strictlywood, Pamela Stephenson and James Jordan brought us some silver screen magic with their Viennese waltz, dancing to the Righteous Brothers' Unchained Melody. It was glamorous, graceful and perfect and the judges awarded them the hallowed 40 points. Watch it again, it's wonderful.
THE CHARLESTON: Sophie Ellis Bextor and Brendan Cole
http://youtube.com/v/ZRsan_COiD0
Nobody embodied the 1920s era like our SEB in this brilliant performance from last year - and it was only week two! We wondered if we'd stepped into a time machine. Cut to 0:35 for one of the most brilliant Strictly lifts ever. She was all over him like a rash, and we loved it.
THE SHOW DANCE: Louis Smith and Flavia Cacace
http://youtube.com/v/xiWC8MS7JF0
We bet Flavia was dead chuffed that she'd got to the final with an Olympic gymnast. We can imagine the conversation: 'Ere, Louis, put these sparkly pants on and start pretending this ball is a pummel horse.' He weightlifted her above his head and she mounted him until he fell over. We felt like we'd been taken up the Royal Opera House; it was like nothing we'd ever seen on Strictly before and confirmed their place as 2011's winning contestants.
Strictly Come Dancing returns on Friday 26th September.


Get the latest updates, reviews and unmissable series to watch and more!
Thank you for signing up to Whattowatch. You will receive a verification email shortly.
There was a problem. Please refresh the page and try again.