Wentworth Prison's Socratis Otto: 'Maxine's a totally innocent bird, I tell you!'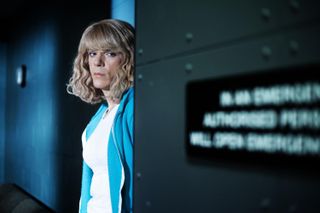 Those bad girls of Wentworth Prison are back on Channel 5 each Wednesday! Read our chat with Socratis Otto, who joins the hit Aussie drama soon as transsexual inmate Maxine Conway…
How does Maxine end up behind bars?
"She had a very solid relationship with her boyfriend, Gary, for about three years. He was supportive of her transitioning from male-to-female. But she wakes up one night and he is hacking her hair off! She doesn't know what is going on. She grabs some scissors and stabs him in self-defence. But she's a totally innocent bird, I tell you!"
How do the other inmates of Wentworth react to Maxine?
"She keeps to herself. But because she is unambiguously male looking, she's got a bit of bulk to her. So people start thinking, 'We can use her for a bit of muscle on our team'. You'll see Franky approach Maxine."
So is Maxine gonna be on Team Franky?
"Franky is now top dog and tries to manipulate Maxine to side with her team. But Maxine is not a violent person at all so she doesn't like that. She is a carer on the outside, caring for under-privileged people. She ends up being drawn to Bea, who has been through an abusive relationship like Maxine."
Does it take long to get dressed up as Maxine?
"Originally it took about two hours in the make-up chair to see what would work. A lot of the girls are jealous because I spend most of my time in the chair getting my make-up done!"
What's it like working with the largely female cast? Does it get rowdy?
"Absolutely! I've got the best of both worlds. The chicks treat me like a girl. But co-stars Aaron Jeffery (Matthew) and Robbie Magasiva (Will) treat me like one of the boys. So I'm kind of the middle ground. It's the ultimate role. The whole bunch of them are terrific. We've actually just finished filming Season 3 of the show and and I love them to death!"
Get the latest updates, reviews and unmissable series to watch and more!
Thank you for signing up to Whattowatch. You will receive a verification email shortly.
There was a problem. Please refresh the page and try again.