Who started the Christine Chiu and Anna Shay rumor on Bling Empire?
There's been a lot of finger-pointing about who allegedly said Anna wanted to "end Christine," but where did the rumor originate?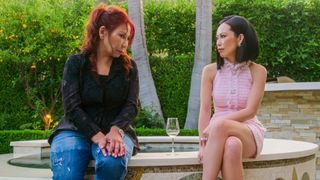 (Image credit: Netflix)
Ever since Bling Empire season 2 wrapped, viewers have been racking their brains trying to figure out who started the rumor about Christine Chiu and Anna Shay.
Just to give a brief recap, last season Christine alleged that a "friend" told her that Anna was planning to "destroy" and "end" her. When the former revealed this news to Kane Lim, he was in disbelief. When Kane pressed her for more information, Christine inferred that Jaime Xie had a hand in relaying this allegation to Christine's source.
Doing what Kane does, he took this bit of gossip and told Anna. Word eventually got back to Jaime that she was linked to the controversy. (Talk about a messy game of Telephone).
With all of that said, in season 3, viewers get further details about the day Christine claims she heard the rumor. She says she was on the phone with an editor of a magazine (who is never revealed) and that editor said Jaime told her Anna was tired of Christine and wanted to destroy her. In a one-on-one sit down with a very bothered Jaime, Mrs. Chiu tells her castmate that she was brought into this situation because the editor made this accusation. Jaime wasn't buying it and accused Christine of making up the entire story.
Later towards the end of season 3, Christine's husband, Dr. G, drops the bombshell that he knows that this editor in question told his wife that Jaime is the one that stated Anna wanted to "destroy" Christine because he was privy to the phone conversation. That's right, he claimed to have overheard the discussion and backed up his wife's account narrative.
So where did the rumor that Anna had it out for Christine originate?
Sadly as viewers, we may never really know. According to Christine, the editor was pushed into signing a non-disclosure agreement at the urging of Jaime, so now the publication boss can no longer discuss the matter. With the editor's lips sealed, this case may remain unsolved.
By the way, as Christine and Jaime attempted to clear their names in this situation, Anna, an integral part of this whole rumor, really had no desire to address it after denying she said it last season.
Fan theories on who started the rumor that Anna wanted to destroy Christine
While viewers may never really know how this bit of gossip started, they certainly have begun to assign blame. Here's a hint, Christine may not have been a fan-favorite last season, but she certainly found support among fans in season 3.
Bling Empire season 3 is now streaming on Netflix.
Terrell Smith has a diverse writing background having penned material for a wide array of clients including the federal government and Bravo television personalities. When he's not writing as Terrell, he's writing under his pseudonym Tavion Scott, creating scripts for his audio drama podcasts. Terrell is a huge fan of great storytelling when it comes to television and film. Some of his favorite shows include The Crown, WandaVision, Abbot Elementary and Godfather of Harlem. And a fun fact is he's completely dialed into the TLC 90 Day Fiancé universe.
Thank you for signing up to Whattowatch. You will receive a verification email shortly.
There was a problem. Please refresh the page and try again.