Who's been holding back the tears on The Voice 2016?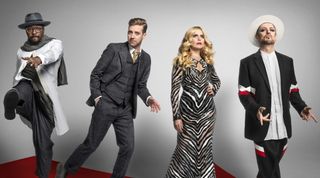 Next weekend sees the return of BBC1 singing competition The Voice and it seems that there has already been tears among the coaches.
Now in its fifth series, the show has had a bit of a revamp with two new coaches being brought in to join the remaining original coach will.i.am, who has been on board since the show's launch in 2012, and Ricky Wilson, who replaced The Script's Danny O'Donohue in 2014's third series. After last year's series, Rita Ora jumped ship to join The X Factor, so Paloma Faith's been brought in to replace her, while pop legend Boy George replaces Tom Jones, who was "let go" from the show after four stints as a coach.
And it seems that the Black Eyed Peas star, who has been moved to tears in previous years, has hardened after five turns as a judge, because with the so-called Blind Auditions already in the can, it's been revealed that every coach except Will cried during the filming of the show.
Pointing to co-judge Paloma during the show's launch event, Boy George reported: "She cried."
The Voice judges (Getty/BBC)
Pop star Paloma, 34, admitted: "I've cried several times. But so's George. Ricky (Wilson) cries all the time."
will.i.am said: I didn't cry this year. I toughened up this year."
Black Eyed Peas star will.i.am, 40, has previously been moved to tears by the contestants, crying in 2014 when Liz Oki sang George Michael's A Different Corner.
There was controversy during filming for the latest series, when Boy George reportedly made Paloma cry as they bickered over a contestant.
The Voice judge Paloma Faith (BBC)
At the time, he told Digital Spy: "First of all, nobody makes anyone cry, crying is a personal choice.
"And Paloma's gorgeous, I worship and adore her.
"And we had a right laugh about it afterwards."
will.i.am (BBC)
Addressing the future of the music industry, will.i.am told the Press Association: "News flash. I know people that have number ones that are number 1,000 the very next year.
"It's about sustainability – how can you sustain your career, right?
"So everyone's yapping and yapping about this and that, and as a show producing superstars … I'm trying to get these contestants to stay at it, be relentless."
The Voice judges (Getty/BBC)
Boy George, 54, who rose to fame with 80s band Culture Club, said: "Careers aren't like they were in the 80s.
"Back in the 80s it was kind of more simple … you got played on the radio, you went in the charts, it was simple.
"Now, none of that exists. So if you're an artist now you have to really be more than just the performer."
http://www.youtube.com/watch?v=JmcA9LIIXWw&feature=oembed
"You have to be a business person, you have to be a producer, you have to really have great tenacity, and you have to really want it.
"It's not like it used to be, it's not as simple any more."
The series, which will be the BBC's last before The Voice moves to ITV, features blind auditions as singers try to win over the judges – who have their backs turned and must decide if they like what they hear enough to turn around.
http://www.youtube.com/watch?v=ebYWo4iVqLI&feature=oembed
On her first series as a judge, Paloma said: "I just feel really impressed.
"I feel really impressed by the fact that there are people on there that you can't believe you haven't heard of already."
She added: "We're all equally as easily pleased and difficult to impress, because our taste is so specific and so personal to us.
Boy George (BBC)
"I sometimes at times have been like – will's turning to someone, and I'm like – what is he doing? I have no idea why he's done it. And same with me or George or Ricky.
"And then it just somehow, after they've worked with someone, you're like, 'Oh! They saw something in them that I didn't see'."
The Voice begins on Saturday 9 January on BBC1.
Get the latest updates, reviews and unmissable series to watch and more!
Thank you for signing up to Whattowatch. You will receive a verification email shortly.
There was a problem. Please refresh the page and try again.