X Factor: second-round auditions break up husband and wife act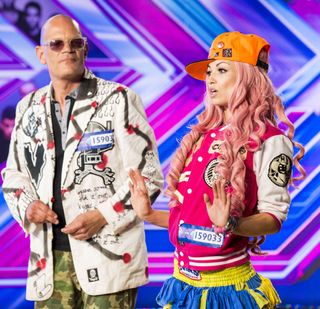 Odd couple Kitten and the Hip gave the X Factor judges plenty to think about in the second round of auditions - and then the judges gave them something to think about: splitting up.
Kitten - aka Scarlett - and Ashley, 53 are partners in work and play and have a daughter.
"We've got each other's backs," Kitten told the judges.
"Oh, I thought you were father and daughter!" Louis Walsh exclaimed.
Awkward.Their audition was awkward, too.
Performing their own number, Shut Up And Dance, Kitten pounced and Hip appeared to need help moving.
"I'm not convinced you work together," Cheryl said. "I think you're stunning," she told Kitten. "You've got something but there'd be a lot of changes I would make."
"I think the man should step back and go," added Mel B. "He's pushing 60, let the wife be the front of this. He should stand down like a man."
"He's a star," Kitten told Mel.
"No, he's not," said Mel.
No splinters in her bum from sitting on the fence.
"It doesn't work at all for me," said Louis.
"It's quite awkward, this, because you are in a relationship and you've got a kid together," said Simon Cowell.
"I don't know if you'd consider going alone," says Cheryl to Kitten.
"Yes. I'm so hungry for this," said Kitten in a nano second.
That shocked the judges… "She could have taken a couple of seconds to think about it," said Simon. Hip looked a bit surprised, too.
So Kitten got 4 yeses and Hip was put out.
A controversial decision… Making their minds up about call centre worker Stevie Ritchie, 33, from Essex, was a lot easier for the judges - even if it took longer.
"Like I always say, it's always sunny somewhere in the world," said Stevie, before he placed himself at the mercy of the judges.
"It's nice to be in the presence of legends like yourselves," Stevie told Simon, Cheryl, Mel and Louis. "And you, Simon, the God of X Factor."
"I like that term," Simon smiled.
Then he started singing Dance With Me Tonight, by Olly Murs.
But there was a lot more dancing than singing as he forgot the words but kept on moving.
"It goes on forever, doesn't it?" he said, as he threw in every dance move he could think of. "I feel such an idiot."
And the judges could see why.
"I like you," Simon told Stevie. "But that wasn't the best vocal."
Louis, Mel and Cheryl said they wanted to see Stevie again. "Really?" said Simon. "I wasn't expecting that."
Neither was Stevie. "Really? Thank you so much! Even though I b*****d it up? I thought, 'that's me, I'm going out' but I thought I might as well enjoy it as you only get one opportunity."
And now he's got another one, in the next round.
Only The Young didn't divide the judges at all - they all loved them.
Mikey, 19, Parisa 20, Charlie, 17 and Betsy, 18 gave Elton John's song, Something About The Way You Look Tonight, a new twist - "and you made it current", Simon told the group.
"I love you guys. I'd love to work with you," he added.
"That's how you do an audition," Cheryl told them. "It's so refreshing to see something original."
Concept was the next group to audition, performing Earthquake by Labrinth.
"You've obviously worked hard at this," Mel told them.
Hard enough to get four yeses.
Arize, a three-piece girl group, also impressed the judges with their version of Little Me by Little Mix.
Overload, featuring five lads, worried the judges, though, when they revealed they'd only been together three month.
But their worry turned to surprise and the boys got four yeses.
The judges' worry returned, though, with the start of an international section featuring wannabes from all over the world.
Oceane Guyot, 19, from Paris, strangled Emotions by Maria Carey.
"It was like you'd swallowed a load of people and they were all screaming," Simon told her. "Unbelievable."
Jimmy Cheung, 57, from Hong Kong did no better with O Sole Mio, by Luciana Pavarotti.
"Did you enjoy it?" Simon asked Jimmy at the end of his audition.
"I did. Did you?" Jimmy replied.
"I didn't actually, Jimmy," Simon told him.
Jan Chichorz, a 21-year-old factory worker from Poland, did something unintelligible with Tough Lover, Christina Aguilera.
"Keep singing for yourself, at home, where nobody else can hear you," Mel told him.
After all that, when Andrea Faustini, 20, from Italy, walked out, the judges were wary.
Andrea was sweet, softly spoken, and wearing a sweatshirt that declared he loves Pugs. He also loves the Spice Girls. Then he sang Who's Lovin' You by the Jackson 5.
"That was unbelievable. That taught me not to judge a book by its cover," Cheryl said. "My favourite audition so far."
"Big, soulful audition. You took it to church and back," said Mel.
"You're really cute but you are Italian," said Simon, "and this is the British X Factor. We embrace all nationalities, though, and I think this is just the beginning of how good you could be. I think you could be really special."
Chloe Thwala, 30, from South Africa, kept the good thing going for the judges.
"Big voice you've got there," Cheryl told her. "You've got the potential to do anything."
The judges also saw potential in 34-year-old Helen Fulthorpe, whose son filled in her application, and cruise ship singer Michelle Lawson, 37.
Linzi Martin, 33, desperately wanted them to see potential in her… What Simon saw was a face he recognised.
"I know you," Simon said, when Linzi walked out.
"Yes, I used to be in a band called Girl Thing when I was a kid," Linzi said. "We were signed to you. We were tipped to be the next Spice Girls." But they weren't.
Then she launched into I'll Be There, by the Jackson 5.
"I think you're really brave but I wasn't crazy about the audition ," Louis tells Linzi. But he gives her a "yes" vote.
"I understand you, I could have been in your shoes," Cheryl says. "But the audition just wasn't strong. I feel it would be unfair to put you through. It's 'no'."
"You know what? We all deserve another chance so I'm going to say 'yes', even though it was not a good audition," Mel told Linzi.
Which left head judge Simon with the deciding vote.
"OK. 'l'm going to be honest, Linzi," Simon said - and you knew the truth was going to hurt her.
"This is not going to work out for you. Your voice isn't good enough, sweetheart and I don't want to give you false hope. I can't lie to you, this isn't for you. I'm going to have to say 'no'."
Ouch.
Click here for our picture special of the X Factor auditions round two.
The X Factor continues with round three of the auditions on Saturday, September 6, ITV, 8.00pm
Get the What to Watch Newsletter
The latest updates, reviews and unmissable series to watch and more!