Celebrity Help! My House Is Haunted season 2: release date, celebrities and everything we know
Another bunch of famous faces with troublesome spirits in their homes seek help from a team of ghostbusting experts…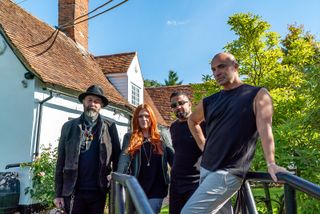 (Image credit: Discovery+)
If there's something strange In your neighbourhood, who you gonna call?
Well, if you're a celebrity plagued by scary and unexplainable phenomena, you can call the team of ghosthunters from Discovery Plus series Celebrity Help! My House is Haunted!
Returning for a second season, the spooky six-parter sees paranormal investigator Barri Ghai, psychic medium Ian Lawman and paranormal researcher and historian Jayne Harris drop in on a new bunch of celebs to oust supernatural entities from their homes.
The first series featured Homes Under The Hammer presenter Martin Roberts, It's A Mystery singer Toyah Willcox, social media star Arron Crascall, Frankie Essex from TOWIE, reality star Charlotte Crosby and Alex Best, ex-wife of late footballer George Best.
This time the celebrity roll call is Pineapple Studios star Louis Spence, Coronation Street's Simon Gregson, reality TV star and socialite Lady Colin Campbell, former X Factor contestant Jake Quickenden, Geordie Shore's Marnie Simpson and Changing Rooms legend Laurence Llewellyn-Bowen.
Celebrity Help! My House Is Haunted season 2 release date
The six-part second series of Celebrity Help! My House Is Haunted is available weekly on Discovery Plus from Friday, February 24 2023.
Celebrity Help! My House Is Haunted season 2: what happens in each episode?
The ghost-hunting team of paranormal investigator Barri Ghai, psychic medium Ian Lawman and paranormal researcher and historian Jayne Harris head to the home of a celebrity who's being tormented by unwanted spirits.
On the way to the property, medium Ian insists on knowing nothing about the investigation ahead of them so he can rely solely on his psychic ability to guide him.
Before they meet the celebrity, Ian has a look around the house to get a feel of the place, Barri chats to a loved one to get some background on the celeb and their family, and Jayne explores the surrounding area to find out about its history, usually uncovering some interesting local tales along the way.
Later they regroup to meet the celebrity for the first time and learn about the spooky goings on… and then the investigation proper begins!
With an array of gizmos and gadgets, the team attempts to make contact with the spirits in the house, with one electronic device conveying messages from the other side!
They also spend all night in the house to identify, communicate with and record the spirits who are parading around the property, using brand new, state-of-the-art equipment with ancient spiritual techniques never before documented on TV.
Can the team identify and possibly banish the troublesome spirits from the celeb's home before dawn breaks?
Meet the team of ghost hunters!
The team is made up of three of the UK's leading paranormal investigators who use their supernatural fortes to exorcise the haunted properties. They are paranormal consultant and technical expert Barri Ghai; exorcist and medium Ian Lawman; and paranormal researcher, psychologist and historian Jayne Harris. Find out more about them below!
Barri Ghai
With more than 20 years experience in the field, Barri Ghai is a professional paranormal investigator and TV presenter. His interest in the existence of ghosts began at young age when he experienced supernatural activity.
He has appeared in many successful TV shows some of which include: Unexplained Caught on Camera, Celebrity Haunted Mansion Live, Celebrity Haunted Hotel Live, My Ghost Story, Ghost Adventures, and Paranormal Investigation: Live.
He's regarded as the team's technical expert, the man who brings all the gizmos and gadgets that they use to communicate with the spirits.
Ian Lawman
Ian Lawman is not only a psychic medium but one of the UK's most sought after exorcists and has been featured on a number of TV shows including Most Haunted, I'm Famous And Frightened and Living With The Dead. He's also worked abroad, appearing Down Under as a member of the team on Haunting: Australia.
He has written about his experiences in the 2007 book Ghost Hunter: Confessions of a Psychic Bad Boy, in which he talks about being haunted by notorious gangsters, the Krays, and an encounter with an amorous ghost!
Jayne Harris
A paranormal researcher, historian, author and podcaster, Jayne's work has taken her all over the world in search of answers and evidence of the afterlife.
As well as appearing in Help! My House Is Haunted, it's celebrity spin-off series and Unexplained Caught On Camera, Jayne was involved in the award-winning podcast The Battersea Poltergeist on BBC Sounds. Shealso makes regular TV appearances as a paranormal expert and hosts her own podcast By Candlelight.
One of Jayne's more unusual claims to fame is that she is the former owner of one of the most haunted objects in the world, Peggy The Doll, which is now in permanent residence at the Zak Bagans' The Haunted Museum in Las Vegas, USA!
As well as writing a book about Peggy (simply called Peggy The Doll), she has written about other haunted objects in the book What Dwells Within: A Study Of Spirit Attachment.
To add to her many talents, Jayne is also a Lecturer and regularly visits universities and other educational institutes giving talks and demonstrations.
Celebrity Help! My House Is Haunted — who are the spooked celebrities?
Louie Spence
Nimble-footed Louie is a dancer, choreographer and television personality, who's best known for appearing in the hit Sky One (now Sky Max) show Pineapple Dance Studios – where he danced and pranced his way into the nation's hearts.
These days, however, it's Louie's 200-year-old cottage in Essex that's giving him the run around!
The house has been plagued with strange smells, bumps in the night and strange shadows coming and going...
Simon Gregson
Everyone knows that Simon is best known as Coronation Street's Steve McDonald, who he first played at the age of 15 in 1989.
Now 48, Simon lives with his young family in a 5-bed detached property in Wilmslow, Cheshire, where all the Gregsons have witnessed the same ghostly apparition and heard their names whispered… But is it a friend or foe?
Can Barri, Ian and Jayne give Simon and his brood some answers?
Lady Colin Campbell
Also known as Lady C, the author, socialite and television personality is probably best known for appearing on the fifteenth TV series of I'm a Celebrity... Get Me Out of Here! in 2015.
The writer of several books about the royal family lives at the 19th-century Castle Goring in Worthing, West Sussex, where female spirits have been stalking her guests.
Desperate to find out who she's sharing her home with, Lady C hopes the team can help.
Marnie Simpson
As the star of hit reality TV show Geordie Shore, Marnie is used to being around spirits, but usually only the ones that come in a glass!
Also known for her appearances in Celebrity Big Brother and Ex On The Beach, Marnie feels like her life took a sinister turn after she did a now-regrettable photo shoot in a graveyard for her 6million followers on social media because she's now being plagued by spirits that have followed her from home to home.
Can Barri, Ian and Jayne help Marnie to rid herself of this malevolent shadow once and for all?
Jake Quickenden
Jake found fame as a contestant on The X Factor in 2012, but only made it to the Judges' Houses stage of the singing competition. Two years later, he auditioned again and made it through to the live shows, but was eliminated in the third week of the 2014 series.
Later that year, he came second in I'm A Celebrity… Get Me Out Of Here! and went on to win Dancing On Ice in 2018.
He's also starred as a character called Woody in Hollyoaks (2019) and competed in the 2021 series of Celebrity SAS: Who Dares Wins.
Jake often tells his social media followers about the bangs, crashes and voices that he and his young family hear in their detached home in the Essex countryside.
Now Jake's called on Barri, Ian and Jayne to help him find out who is following, guiding, and sometimes scaring him, everywhere he goes…
Having experience personal loss, Jake's hoping the spirits are loved ones trying to contact him, so he's hoping the team can provide him with some longed-for answers.
Laurence Llewelyn-Bowen
The flamboyant interior designer first came to prominence in BBC1's home makeover show Changing Rooms, which ran for 17 series from 1996 to 2004. He also appeared in C4's reboot of the series in 2022.
Laurence lives with his family in a 17th-century six-bedroom manor house in the Cotswolds, where previous owners reported countless sightings and strange noises.
He's well known for his combative personality, but will Laurence still feel brave when he discovers the dark and secret history of the place he calls home?
Get the What to Watch Newsletter
The latest updates, reviews and unmissable series to watch and more!
Writer/Editor on Chat, Woman, Woman's Own plus TV & Satellite Week, TV Times and What's On TV
Michael writes about TV for Woman, Woman's Own, Chat, What's On TV, TV Times, TV & Satellite Week and regularly contributes to whattowatch.com (opens in new tab).
After graduating from the University of Winchester with a degree in English and American Studies, he chose a career that combined his great passions in life – magazines and television – and he has primarily worked as a TV journalist for more than 25 years.
He loves classic sitcoms such as The Good Life, Hi-de-Hi! and Man About the House, as well as shows such as Downton Abbey, Call the Midwife, The Great Pottery Throwdown and The Real Housewives of Beverly Hills.
Some of his favourite people who he has interviewed over the years include Gillian Taylforth, Linda Robson, Sara Davies, Alex Polizzi and Bradley Walsh!