'Hawkeye' on Disney Plus — Release date, cast and everything you need to know
Hawkeye is exciting and all, but we know you're just here for Lucky the Pizza Dog.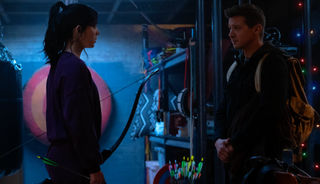 (Image credit: Disney+)
Who will come first, Hawkeye or Ms. Marvel? Both of the Phase 4 series have a "late 2021" release date chilling on the calendar, but Disney has kept actual details on the "when" close to the vest. All the same, Hawkeye looms! Here's everything we know about the series so far.
What's 'Hawkeye' About?
Clint Barton might be the only Hawkeye fans of the Marvel Cinematic Universe have met so far, but he's not the only one to take on the mantle. In Hawkeye, Kate Bishop will be entering the scene as the MCU inches closer and closer to the Young Avengers (while a separate conversation, you should most definitely be paying attention to characters like WandaVision's Billy and Tommy, and Loki's Kid Loki.) Rather than focus entirely on Clint, the new Disney+ series will act as an origin story for Kate as she picks up the bow and learns from her haphazard mentor, with the inclusion of Lucky the Pizza Dog.
Read: Kate Bishop, Hawkeye, and Lucky the Pizza Dog
Disney has released the official synopsis for the series:
"Former Avenger Clint Barton has a seemingly simple mission: get back to his family for Christmas. Possible? Maybe with the help of Kate Bishop, a 22-year-old archer with dreams of becoming a superhero. The two are forced to work together when a presence from Barton's past threatens to derail far more than the festive spirit."
When will 'Hawkeye' premiere?
Disney has officially announced that Hawkeye will hit Disney+ on Nov. 24th. Quite nice of them to bring us such a lovely gift so early before Christmas, don't you think?
Disney Plus' offering MCU television offerings have been debuting with only their first episodes. However, the streaming service has announced that the Hawkeye premiere will feature the first two episodes of the six-part series. The rest of the episodes will drop weekly on Wednesdays at 12:00 a.m. PT.
Read: Black Widow Review: Not too little, but a little too late
Who's in the cast of 'Hawkeye'?
Disney tried real hard to hide the fact that Hailee Steinfeld would be taking on the role of Kate. Even after set photos leaked showing the actress in her full Hawkeye costume, The Mouse™ tried to deny the casting. Knowing that they'd basically been caught in the act, the studio waited a couple days and ultimately dropped a whole host of casting news. Here's what the current cast list looks like.
Jeremy Renner as Clint Barton
Hailee Steinfeld as Kate Bishop
A Very Good Boy as Lucky the Pizza Dog
Florence Pugh as Yelena Belova
Vera Farmiga as Eleanor Bishop (Kate's momma)
Fra Fee as Kazimierz Kazimierczak (aka Kazi aka Clown)
Tony Dalton as Jack Duquesne (aka Swordsman)
Alaqua Cox as Maya Lopez (aka Echo)
Zahn McClarnon as William Lopez (Maya's dad)
Disney is known for dropping a few surprises in their television offerings. As of right now we know that Vincent D'Onofrio is heavily rumored to reprise his role as Kingpin — noteworthy due to the fact that Disney has mostly ignored the existence of the Defenders and adjacent characters despite their technical inclusion in the MCU proper.
Though nothing has been confirmed as of yet, it seems likely that Valentina Allegra de Fontaine (aka Madame Hydra) will be returning. We'll keep the "why" out of this post until folks have had more of a chance to see the events of Black Widow unfold, but expect to see Julia Louis-Dreyfus pop up here and there.
Does 'Hawkeye' have a trailer?
The holidays came extra early for Marvel fans, as Disney has released the first official trailer for Hawkeye. Featuring Perry Como's "It's the Most Wonderful Time of the Year," the trailer previews Barton and Bishop's budding mentor/mentee relationship, some slick bow action and, apparently, a Captain America musical.
A pair of 60-second trailer has also been released, highlighting plenty of the comedic sensibilities the series appears to have.
Amelia is an entertainment Streaming Editor at IGN, which means she spends a lot of time analyzing and editing stories on things like Loki, Peacemaker, and The Witcher. In addition to her features and editorial work, she's also a member of both the Television Critics Association and Critics Choice. A deep love of film and television has kept her happily in the entertainment industry for 7 years.
Get the latest updates, reviews and unmissable series to watch and more!
Thank you for signing up to Whattowatch. You will receive a verification email shortly.
There was a problem. Please refresh the page and try again.