'Watercolour Challenge': host Fern Britton guides us through her new painting competition
Fern Britton on presenting 'Watercolour Challenge', her new daily painting show showcasing Britain's most stunning locations.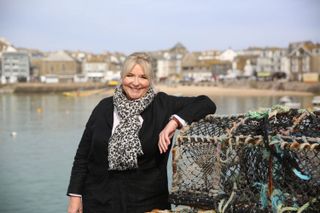 (Image credit: Channel 5)
Fern Britton is the host of Watercolour Challenge, a telly competition on Channel 5 where amateur artists go easel to easel to capture some of Britain's finest views against the clock! The 20-episode show, previously hosted by Hannah Gordon, takes in the delights of Yorkshire, Devon, Wales and Cornwall as the competitors try to capture views of beaches to mountains, castles to railways, before their works are judged by a professional painter.
We recently chatted to Fern Britton to find out more about the new series, which celebrates Britain's watercolour heritage…
'Watercolour Challenge' air date
Watercolour Challenge is a four-week 20-episode show starts on Channel 5 on Monday 17 January at 4pm, with episodes running weekdays from Monday to Friday over the next four weeks, just in time to banish our winter blues.
What appealed to Fern Britton about presenting 'Watercolour Challenge'
Watercolour Challenge host Fern Britton says: "Actually, when it first popped up on my email I thought, 'I can't paint!' But then they said, 'it's not for you to paint, you idiot, it's for you to present! 'It's just so lovely to make a programme that's so in tune with our current situation. The news is so frustrating and heartbreaking and painful and anxiety inducing, but this programme is a real tonic. It's the same reason why The Repair Shop and Bake Off and Countryfile are so popular. Yes, Watercolour Challenge is a competition, but it's competitive in a very gentle way. There's no fighting or catcalling or wrestling!|
Fern on the amateur artists taking part in 'Watercolour Challenge'
In each week of Watercolour Challenge, four talented amateur artists create five watercolour paintings of different locations around Britain. They all come from different backgrounds and jobs, and they've applied to be on the show.
"The amateur artists were unbelievable!" says Fern. "They all have three hours to produce a watercolour of a particular view around Britain and then they're judged by an expert. It takes balls to produce something creative on the spot in front of strangers like that. But the biggest challenge for them was knowing when to stop. There can be a temptation to over paint and then you muck it up!
"A fun part of the programme is that people will think a particular painting should win and then it doesn't. I wasn't allowed to express an opinion of course, but everyone has different tastes. It's like Strictly when a couple leaves and people go, 'what on earth happened there?"
Fern on the stunning locations in 'Watercolour Challenge'
Each week of Watercolour Challenge comes from a different British location. In week one the artists paint vistas in Yorkshire, from Scarborough Bay to Castle Howard. Then in week two, a fresh batch of amateurs are challenged to convey the beauty of Devon, week three it's Wales and in week four Fern presents the show from her home county of Cornwall.
"There were some very beautiful locations," says Fern. "I really enjoyed Wales. The Brecon Beacons were stunning, as was St Donat's Castle. I also loved the Rhondda Heritage Park. It was so stark and so industrial and yet very beautiful. Some of the paintings that came out of that were really interesting!"
Fern on the filming challenges behind 'Watercolour Challenge'
Watercolour Challenge was filmed in June 2021, but in typical British style it rained… a lot!
"Although the artists had three hours to finish their watercolours, we gave them 15-minute breaks here and there so they could have a cup of tea and warm up," says Fern. 'Painting a watercolour in wind and rain is really difficult, especially with cold fingers. We had emergency pop-up shelters for them, but the rain still hammered down and took all the paint off the page!"
Fern on what else we should know about 'Watercolour Challenge'
Watercolour Challenge is a revival of a Channel 4 version broadcast between 1998 and 2001 and hosted by Upstairs, Downstairs actor Hannah Gordon. Bur already Fern has her eye on a second series!
"If they offered it to me, then yes please!" she says. "I just love travelling around the countryside. Our British Isles are just so beautiful. I did A Level art and I haven't painted for a long time, but Watercolour Challenge has inspired me to take up my paints again and I'm hoping it will encourage viewers to give it a go, too. It's food for the brain and for the soul!"
'Watercolour Challenge' episode guide
WEEK ONE in DEVON (Jan 17 to 21 2022)
Episode 1 : ROYAL WILLIAM YARD
Today on Watercolour Challenge Fern and professional artist and judge Lisa Takahashi, are heading to the maritime city of Plymouth in Devon, where four amateur painters will be tasked with capturing a scene that is as historic as it is picturesque. The Royal William Yard, at the entrance to the River Tamar, once served as a supply station, or victualling yard, for Britain's Royal Navy. The grand nineteenth century buildings, which included a slaughterhouse, a cooperage and a clock tower that kept time for the entire city, are now some of the most important military buildings in Britain and also the largest collection of Grade 1 listed military buildings in all Europe. Today it's been converted into a picture-perfect place to live work and play – but will the artists paint a perfect picture? We'll follow our four amateurs, who's usual subjects include mermaids and flamenco dancers, as they battle to capture the essence of the Yard's history and architectural beauty, in one single winning watercolour, in only 3 hours!! We'll learn some Naval facts about the Yard along the way plus reveal the story of one of Plymouth's most celebrated painters, Sir Joshua Reynolds. His early work painting the Naval Officers of Plymouth's docks, helped him to become one of the most important portrait artists in Europe. But which of our artists has what it takes to rise to this historical and architectural challenge and who will crumble under pressure?
Episode 2: MEADFOOT BEACH
Fern and pro artist and judge Lisa Takahashi, are heading to the English Riviera in South Devon where four amateur watercolourists will try and capture the essence of the great British seaside holiday. Meadfoot Beach, with its beautiful beach huts and Regency Crescent, is the jewel in Torbay's crown. It was once a spa resort for the Victorian Upper classes and was the regular swimming spot for none other than the queen of crime – Agatha Christie. Today Meadfoot is as picturesque as ever. We'll follow our daring painters as they battle with sunny but very windy conditions as they try to capture the dazzling scene in a meagre 3 hours. As the paintings come together, we'll hear about the roll call of literary visitors who've holidayed here; Rudyard Kipling, Conan Doyle and even Charles Darwin to name a few – and we'll hear the tale of an 18th century clergyman who toured the region by horseback to capture the picturesque county in glorious watercolour.
Episode 3: DARTINGTON HALL
Fern Britton and professional artist and judge Lisa Takahashi, are heading to a magnificent Medieval country estate in Devon where four brave amateurs will be tasked with capturing the essence of this fascinating location in one single painting. The Dartington Hall Estate is home to the largest Medieval Manor House in the South West and it's been a hotbed of cutting edge art for nearly a century. Originally built by the Duke of Exeter around 600 years ago, it was bought in the 1920s by wealthy American heiress, Dorothy Elmhirst and her English husband Leonard. They used the estate to cultivate alternative farming, forestry and education methods attracting a host of influential and avant-garde artists from far and wide. Today the educational art scene is thriving here. We'll follow our four amateur painters as they try to capture the atmosphere of the manor house, tiltyard and gardens, in all their springtime glory - but of course they only have 3 hours to do so. As usual it's not plain sailing painting outside, and this week the sun is playing havoc with their progress. Whilst our painters do battle, we'll reveal the fascinating story of the Nobel prize winning poet, philosopher and artist from Bengal, Rabindranath Tagore, who inspired the Elmhirsts to go to Devon in the first place and create a new way to live. But will this artistic legacy inspire or overwhelm our amateur painters?
Episode 4: PLYMOUTH SOUND
Fern and judge Lisa Takahashi, are heading to sunny Devon where four brave amateur artists will be asked to capture one of the County's most iconic views. Plymouth Sound, in Britain's Ocean City, is acclaimed as one of the greatest natural harbours of the world. Bordered by historic Plymouth Hoe on one side and the Cornish coastline on the other, it's a hotbed of historical intrigue. Francis Drake, Captain Cook, Ernest Shackleton and Charles Darwin are just some of the titans who have set sail from here– and into history. Today this vast waterway, hosts all maritime life, from pleasure boats to Naval warships…not to mention a former fortress and prison, Drakes Island. We'll be with the painters, who's specialisms include urban vistas and the human form, every step of the way as they try to capture this historic seascape in a measly 3 hours , plus we'll learn some tricks of the trade as we go. Alongside the painting, we'll hear tales of famous ships that have graced the Sound, perhaps most dramatically the HMS Bellerophon carrying Napoleon as prisoner in 1815, a scene depicted in a painting by Jules Giradet, that shows a frenzy of activity around the ship, akin to Beatlemania. But will this vast vista that's so steeped in history be a watercolour challenge too far? And will the changing weather make it an impossible task?
Episode 5: HIGH CROSS HOUSE
Lisa Takahashi and Fern are in the green and pleasant land of Devon to challenge four amateur artists to capture a jewel of 20th British architecture. High Cross House on the Dartington Estate is thought to be the most important Modernist building in the County. It was commissioned in 1931 by the progressive estate owners, Dorothy and Leonard Elmhirst. It was designed by William Lescaze, one of the leading architects of the Modern Movement and completed, it stood at the very cutting edge of international architecture. Today it stands as a listed monument to the Modernist era and its precise angles, plus sweeping curves, stark white and blue exterior all nestled in a contrasting rural setting is a huge watercolour challenge for anyone, let alone the four amateurs. We'll follow the four painters progress as they try and master this striking scene, but with their usual subjects including landscapes and flamencos dancers, this could be their toughest challenge yet. They have three hours to complete their painting and along the way we'll hear the story of how the Dartington Estate played a crucial role in British art history attracting the most cutting edge and celebrated artists of the day, including none other than sculptor Henry Moore. But in the wake of such artistic greatness can the four amateurs live up to the challenge?
WEEK TWO in YORKSHIRE (January 24 to 28 2022)
Episode 6: SCARBOROUGH BAY
This time on Watercolour Challenge Fern will be heading to the North Yorkshire coast to conjure up the magic of the traditional British seaside holiday. Scarborough was Britain's very first spa resort, with the upper classes coming to 'take the waters' as early as the 1700s and by the early 20th century it was go to seaside escape for the hoi polio. The four artists will be setting up their easels on the promenade in South Bay taking in the sweep of the shoreline from the Victorian built Grand Hotel, to the 12th century Castle on the hill all the way over to the historic harbour. It's a vista packed with pitfalls for any artist, let alone four amateur painters. Judging the final painting today, is army vet turned professional painter, Ady Wright. He'll be on hand to guide the artists through this complex scene as well as offering a top tip on dramatic sketching using raw watercolour pigment. Whilst the artists tackle this complex view, Fern will learn how Scarborough became known for its healing waters, both for quaffing and bathing. We'll also hear the story of another painter who once painted this exact view, perhaps the most influential watercolourist of all time – Joseph Mallard William Turner, who's paintings of Scarborough are just part of his incredibly legacy to the art world. He's a hard act to follow, will the painters crumble?
Episode 7: GOATHLAND RAILWAY STATION
The team are in Yorkshire to celebrate the golden age of steam railways. Four amateur artists will be setting up their easels at a train station that's a movie star in its own right. Goathland Station on the North York Moors is a heritage station on one of the oldest railway tracks in the world. Its perhaps more famous however as the Hogwarts Express Station from Harry Potter. Not only will the artists have to content with painting the station there'll also be a surprise guest an original Steam Loco – Peggy! Judging the paintings today is internationally acclaimed, army veteran turned painter, Ady Wright. He'll be giving some tips along the way, including a simple way of painting atmospheric steam using a palette knife and a cleansing wipe! As the artists get to grips with this historic and picturesque scene Fern will meet the Station Master who began volunteering to keep the station alive in the 1960s. We'll also learn about the fashion of Railway Art through the work of one of the best there was – Yorkshireman Frank Mason, who's work inspired train journeys to Yorkshire's beauty spots – I wonder if the four painters today will be able to do the same?
Episode 8: CASTLE HOWARD
This time on Watercolour Challenge Fern will invite four would-be painting champions to one of Yorkshire's grandest of all grand houses. Castle Howard in the north of the county, is a 300 year old architectural masterpiece designed by John Vanbrugh. It sits in nearly 9000 acres of spectacular grounds, is still occupied by the Howard family that commissioned it centuries ago, but is perhaps most famous as being the location for Brideshead Revisited. The Artist's view today will the formal gardens sweeping towards the Atlas Fountain with the fantastic house behind. It's a challenging view with potential composition and perspective pitfalls that could fox even the most professional eye! Judging the paintings today is internationally acclaimed, army veteran turned painter, Ady Wright. He'll be giving some tips along the way, including a simple way of demonstrating depth using different tones of the same colour. As the painters take to the easels Fern will meet Nicholas Howard, the latest family resident to discover how his trailblazing ostentatious ancestors employed the greatest architects of the day to embed a piece of Italy into the North Yorkshire landscape. Castle Howard also has a significant art collection and we'll meet one of its curators to discuss perhaps the greatest piece in the house, a magnificent fresco painted by the fashionable Italian artist Antonio Pellegrini at the turn of the 18th century. It's an awe-inspiring location, which of the four amateur artists can rise to the challenge?
Episode 9: PEASHOLM PARK
Today on Watercolour Challenge Fern will be stepping into an Oriental paradise in tucked away corner of North Yorkshire. Peasholm Park in Scarborough was designed over 100 years ago by civil engineer Harry Smith to turn an area of scrubland into a magical escape to the Far East. The lake with its waterfall, pagoda and dragon boats have been admired ever since. It's a busy and eclectic scene full of movement and colour which will pose a very particular challenge to the four amateur painters of the day. Today's judge will be internationally acclaimed local painter Ady Wright. Not only will Ady be deciding today's winner, but also offer some pearls of wisdom to help the artists bring the park to life. He'll also be giving us a top sketching tip – using of all things – a cleansing wipe! Whilst the artists paint their hearts out, we'll hear tales of fashionable promenades in the park, and discover a unique naval warfare re-enactment that hasn't changed since the 1950s. We'll also learn of another of Yorkshire's brushes with the Orient in the form of Confucian scholar and artist Chiang Yee, who's 1940s book 'Silent Traveller in the Yorkshire Dales' featuring countryside paintings with a Chinese twist – became a best seller. It's a unique setting…can the artists do it justice?
Episode 10: TEMPLE OF THE FOUR WINDS
This time on Watercolour Challenge Fern invites four daring amateur watercolourists to tackle a grand architectural pleasure pavilion set in the grounds of the Castle Howard Estate in Yorkshire. The Temple of the Four Winds, designed by English architectural giant John Vanbrugh, sits at the base of the Howardian Hills at the end of a tree lined promenade and was used by the nobility as a place of relaxation, refreshment and contemplation. But will this Baroque masterpiece have the same affect the four brave painters? With challenges including perspective and light, judging the finished paintings is North York Moors artist in residence, and army veteran turned painter, Ady Wright. He'll be giving some top tips including how to balance the warm and cool colours when painting in nature. Whilst the painters work, we'll meet Castle Howard's head curator Dr Chris Ridgway who's looked after the estates listed building for over 30 years. We'll all also hear how Britain's greatest living artist and Yorkshire native David Hockney was inspired by the Yorkshire countryside to create some of his greatest works in watercolour. He's quite an act to follow …will the artists stay the course?
WEEK THREE in WALES (January 31 to February 4 2022)
Episode 11: St Donat's Castle
Fern challenges four artists to paint a medieval marvel in South Wales. St Donat's Castle, set in 122 acres and with its own stretch of Glamorgan coastline, has been continuously occupied since the 12th century and is one the best preserved castles of its kind in the country. Since 1962, it's been the home of international school United World College of the Atlantic. Previously, this magnificent fortress has been owned by some of the most colourful characters in history, including American media tycoon William Randolph Hearst. Judging the winners and helping the artists along their way is local painter Peter Cronin. There's also a surprise guest in the form of Guinness, a magnificent jousting horse, to get the painters in the mood. As work progresses, we hear how one of history's most ostentatious millionaires, William Hearst, had a passion for castles that led him to buy St Donat's on a whim, transforming it into a playground for US society A-listers including Clark Gable and the Kennedy family. We also learn how the 'father of watercolour' Paul Sandby painted St Donat's in the 18th century as part of a series of 12 paintings that he went on to produce using a new method called the 'aquatint' — which revolutionised the watercolour world.
Episode 12: Brecon Beacons
Fern heads to Wales's magnificent Brecon Beacons National Park to set up the easels on one of the country's largest private estates. The Glanusk Estate near Crickhowell sits at the base of the Black Mountains. It's been owned and run by the same family for seven generations and currently in charge is Harry Legge-Bourke, who's taken over from his mother Dame Shân Legge-Bourke, former lady in waiting to HRH The Princess Royal. Today's four amateur artists are tasked with capturing the beautiful estate house with the inspiring Black Mountains behind. Judging the painters and giving some top tips along the way is award-winning professional Welsh painter Peter Cronin. As usual, the painters have just three hours to complete their rendition of the scene. As they do battle with their compositions as well as the elements, Fern learns from Dame Shân about the estate's dramatic history, which includes a wartime occupation and the original mansion house being blown to smithereens! We also hear how one of Britain's most original artists, David Jones, was so inspired by this same landscape that it changed his art life forever.
Episode 13: Rhondda Heritage Park
Fern invites four amateur artists to the legendary Rhondda Valley in South Wales to capture a scene from Wales's mining past. The former Lewis Merthyr Colliery, at the Rhondda Heritage Park, was famous for producing steam coal for factories and ships worldwide, including coal for the Titanic. The artists' view includes the original buildings, with the miners' lamp rooms, the engine rooms and the two oldest pithead wheels that remain in Wales. It's a complex and evocative scene, one that could strike fear into the heart of a professional watercolourist, let alone four amateurs. Judging the painters and giving them some useful tips is award-winning local artist Peter Cronin. As the painters grapple with their tricky task, Fern meets former miner turned heritage park guide Peter Griffith to discover what life was like working below ground for over three decades. We also learn the story of Ernest Zobole and the Rhondda Valley Artists, whose radical work in the 1950s and 60s was directly inspired by the valley and its community — earning Zobole both national and international acclaim. But in the face of such an emotive location, which of the artists can hold their nerve?
Episode 14: River Usk
Four amateur artists tackle one of Wales's most famous waterways. The River Usk is arguably one of the country's most picturesque rivers and, with its abundance of wildlife, has been designated a Site of Special Scientific Interest. With its source high in the Brecon Beacons and winding 120 kilometres to the River Severn, the painters are tasked with capturing a spectacular section on the Glanusk Estate, one of Wales's largest country estates at the base of the Black Mountains. Accompanying Fern, and ultimately choosing the winning painting, is professional artist Peter Cronin. He offers some tip along the way, including a simple way to tackle those tricky reflections in the still river water. While the artists battle with a multitude of challenges, not least the reflections, estate gamekeeper Justin reveals that the river is not only one of the best salmon and trout fishing rivers in Wales, but that it's also alive with myths and legends that include none other than King Arthur. We also hear the tale of 18th-century watercolour artist John Warwick Smith who, unable to travel to Europe because of the Napoleonic Wars, discovered Wales as an artist's paradise, paying particular attention to the River Usk and, in so doing, opened the floodgates for all the great artists — including Turner — to follow.
Episode 15: Vale of Glamorgan
In the last of the episodes in Wales, Fern and four artists visit a wonder of the natural world, the Glamorgan Heritage Coast in South Wales. The task for the artists is to capture the beauty and drama of this Jurassic coastline that holds the secrets of Wales's prehistoric past. Once a desert, then home to dinosaurs, and now a beauty spot, this rocky bay of ancient limestone overlooking the Bristol Channel has seen over 200 million years of life. But will the painters' work be as awe-inspiring as their view? As usual, the artists have only three hours to complete the task and judging the final paintings is celebrated Welsh watercolourist Peter Cronin. He gives some helpful tips along the way, including how to simplify a tricky rock face. While the painters get stuck in, we hear how this stunning coastline captivated trailblazing Welsh artist Joan Baker, who returned here throughout her artistic career, creating some masterpieces along the way. Fern also meets palaeontologist Cindy Howells, who explains how a recent fossil discovery nearby of a tiny relative of T.Rex took the archaeological world by storm. But could all this prove to be a watercolour challenge too far?
WEEK FOUR in CORNWALL (February 7 to 11 2022)
Episode 16: Porthmeor Beach
Fern and professional artist Billy Burman are setting up the easels in glorious Cornwall and asking four amateur painters to capture one of the county's most spectacular beaches. Porthmeor Beach in St Ives is not only a holiday hotspot, with its sweeping sandy bay, but a beacon for artists from around the world. Overlooked by Tate St Ives, and some of the most iconic artists studios in Britain, many of them occupied for over a century, this beach has played host to some of the most influential artists of the 20th century. Today, the art scene is alive and kicking, but will this artistic heritage inspire or overwhelm the amateur painters? We keep a close eye on the four brave souls, whose usual subjects include pets and people, as they try to capture this celebrated scene and learn some simple tips and tricks about painting a seascape from professional judge Billy. As the artists battle with the changing tide and light, plus the architecturally eclectic shoreline, we hear from a local historian about the roll call of famous artists who've worked from the fishing lofts turned art studios. These artists would eventually sow the seeds for an influential art colony that included the likes of artistic heavyweights Ben Nicholson and Barbara Hepworth. We also learn about the life of one artist in particular who is synonymous with St Ives, Patrick Heron, whose groundbreaking use of colour inspired a generation of painters. But which amateur painter will carry the spirit of St Ives in their finished work?
Episode 17: Jubilee Pool, Penzance
In today's episode of Watercolour Challenge, Fern heads to West Cornwall and asks four amateur painters to capture a location that celebrates the golden age of the British seaside holiday. The Grade II listed art deco Jubilee Pool in Penzance is the largest seawater lido in the UK, and it's been welcoming bathers since the 1930s. Opened in 1935, the year of King George V's Jubilee, it's celebrated for its unique design and its clean white art deco curves. Today, the pool has the addition of a geothermal spa and is owned and run by the community placing it firmly at its heart. The painters, whose usual subjects include landscapes and body art, will be well out of their comfort zone. They have the usual three hours to capture this iconic structure, with some swimmers thrown in for good measure. Judging proceedings is local professional painter Billy Burman, who has some tips on how to capture those white walls. As the paintings unfold, we learn about local borough engineer Captain F Latham who created the groundbreaking design of the pool to withstand the force of the Atlantic Ocean. We hear the story of painter Stanhope Forbes, whose work in the 19th century brought this area to the attention of artists from far and wide, inspiring the influential Newlyn School of painters.
Episode 18: St Ives Harbour
Fern is joined by professional painter and judge Billy Burman in what's been called the jewel in Cornwall's crown: St Ives. They task four keen amateur watercolourists to capture a view of the picturesque harbour, the safest haven on the rugged Cornish coast and once one of the largest pilchard fisheries in Europe. Today, it's still a busy working port, but also a pleasure beach, and the entire harbour is surrounded with pretty Cornish cottages. It's both a vibrant and historic scene, but will today's amateurs, whose normal subjects include body art and pencil portraits, do the view justice? We follow their progress as they chase the rising and falling tide, the busy harbour traffic and the ever-changing light. As they work, Fern learns tales of the harbour from years gone by, when a thousand tonnes of pilchards could be landed in a single night. And we learn about one local fisherman turned painter, Alfred Wallis, who transformed the modernist art world forever.
Episode 19: Trebah Garden
Fern sees the easels set up in a subtropical garden paradise. Trebah Garden in southwest Cornwall is a 180-year-old pleasure garden on the banks of the River Helford, alive with exotic plants and flowers collected from the four corners of the globe. Today's artists are tasked with capturing something of its botanical splendour, a challenge for any professional artist, let alone four watercolour amateurs. Judging the painters and giving some botanical painting tips along the way is professional painter Billy Burman. As usual, the painters have just three hours to complete the challenge. As they paint, we hear from head gardener Darren, who tells us tales of derring-do by local plant hunters the Lobb brothers, whose exploits resulted in some of the garden's greatest treasures from South America and beyond. As the painters try to capture the seasonal splendour of the garden's rhododendrons and azaleas, we hear the story of one of the greatest Victorian botanical artists of the day, Beatrice Parsons, championed by Queen Mary and who perfected her craft in many Cornish gardens, including Trebah. But which artists are able to follow in her footsteps and capture the winning painting?
Episode 20: Mount's Bay
In this final episode of Watercolour Challenge, Fern asks four plucky painters to capture one of the county's most famous stretches of coastline. Mount's Bay is the first and last shelter before the Atlantic Ocean. This vast vista includes the iconic St Michael's Mount to the left as well as Newlyn Harbour, its lighthouse and Penlee Point to the right. It's been painted by some of the greatest masters of our time, including JMW Turner. It's a painting challenge that isn't for the fainthearted, so will the four artists be up to it? Judging the competition is local professional artist Billy Burman, who gives some hot tips on how to paint the perfect horizon. As the four artists battle the elements to capture the majestic scene, we hear from local historian Elizabeth Dale, who discusses the visitors to Mount's Bay through the centuries, from Mediterranean traders to the Barbary pirates who kidnapped local fishermen and sold them as slaves on the Arab market. We also hear the story of one of Britain's most celebrated watercolourists, Walter Langley, who moved to the area and helped create the new wave of 'plein air' or outdoor painting in 19th-century Britain. No pressure on our amateurs, but which of them is able to capture all this drama and create their very own Mount's Bay masterpiece?
* Best Channel 5 documentaries on My 5
* Best BBC documentaries
* Best Channel 4 documentaries
* Fishing Scotland's Lochs and Rivers
Get the What to Watch Newsletter
The latest updates, reviews and unmissable series to watch and more!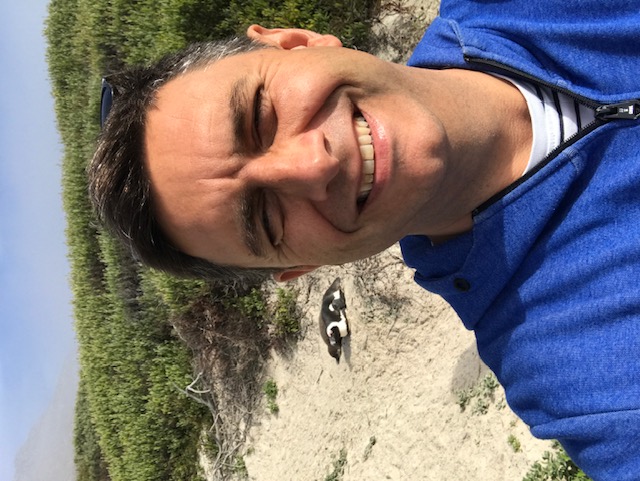 TV Content Director on TV Times, What's On TV and TV & Satellite Week
I'm a huge fan of television so I really have found the perfect job, as I've been writing about TV shows, films and interviewing major television, film and sports stars for over 25 years. I'm currently TV Content Director on What's On TV, TV Times, TV and Satellite Week magazines plus Whattowatch.com. I previously worked on Woman and Woman's Own in the 1990s. Outside of work I swim every morning, support Charlton Athletic football club and get nostalgic about TV shows Cagney & Lacey, I Claudius, Dallas and Tenko. I'm totally on top of everything good coming up too.