BGT's Alesha wants an X-rated spin-off show: 'That would be great TV!'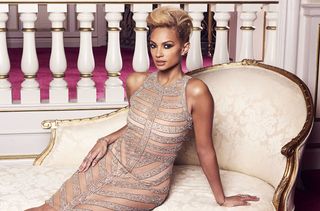 Judges Alesha Dixon, Simon Cowell and Amanda Holden on celebrating a decade of Britain's Got Talent with more magical moments, practical jokes and cake.
This year marks the show's 10th anniversary, have you been celebrating?
Alesha: "There's been lots of cake, and a giant cake, in fact! It's a real milestone for the show and we've all felt the pressure more than usual because we want to do the public proud."
Simon, you also appear to be enjoying yourself… .
"This is such a fun show to do. I love doing The X Factor, but when you finish that and then go onto this, it's much easier. And this first part of the series is hilarious. I think Britain's Got Talent has lasted so long because whether you're a dog, a cat or a stripping pensioner, we don't care, you can all come on the show."
Amanda, last year you said the 2015 series might be your last – are you glad to be back?

"I love it, and it really hit home how much when I realised my daughter Lexi, who is 10 this year, has grown up with it. It's a real family show. It's safe, wholesome and hilarious, and the live shows have turned into something of an event. You can watch them with everyone together, like a street party. It really is the beating heart of Britain."
This is your fifth year together as judges, what's the secret to a happy panel?
Alesha: "We hit it off from day one. There's a natural chemistry and rapport between us, and over the years the relationship has become stronger. We know each other so well now and it's a settled panel in that respect. I think the public like that.
"We're a strong, dysfunctional family and we can say things to each other and get away with it because we are super-comfortable. We constantly wind each other up and it's the battle of the egos with David and Simon. It continues when the cameras stop rolling, and Amanda and I have to tell them both off."
Dog trainer Jules O'Dwyer and her tight-rope-walking pooch Matisse won last series – what are you on the look-out for this year?
Alesha: "We see something different every series and I love that. There have been a lot of dangerous and difficult-to-watch acts, which I find cringey, but they make fantastic telly. We've also seen more magicians, who were probably inspired to come forward after Jamie Raven and Darcy Oakes did so well.
"In order to win, though, you really have to capture everyone's imagination, whether it's doing something daring or making that emotional connection with people. We want to be blown away and surprised.
And can we expect more celebrations come the live shows?
Amanda: "You know what Simon's like, he's probably concocting an evil plan…"
Simon: "We're going to bring back some big moments from over the years and try to make it as surprising as possible."
Finally, Alesha, we hear you have plans for a spin-off show?
Alesha: "We always discuss how we can somehow get an X-rated BGT to go out after hours, with all the footage you never see and couldn't show at 8pm. That would be great TV!"
Amanda: "It would be career ending! The stuff we say and the people we talk about… it would be so bad we would have to leave the country. I'm not even joking!"
Get the What to Watch Newsletter
The latest updates, reviews and unmissable series to watch and more!