BGT's Harry Gardner reveals ill grandmother who inspired his song has died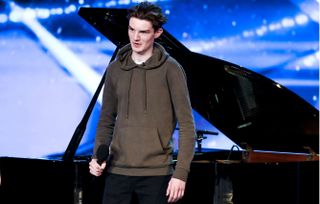 Harry Gardner brought the Britain's Got Talent audience to tears last night with his heart-wrenching tribute to his grandmother. He has since confirmed that his grandmother has died.
The teenage singer-songwriter who brought Britain's Got Talent judges to tears with his rendition of a song about his ill grandmother has confirmed she has died since filming took place.
In Saturday night's episode, Harry Gardner, 16, was given a standing ovation for his performance of Not Alone, a song he wrote himself about his grandmother, who was suffering from Alzheimer's.
https://www.youtube.com/watch?v=1b4Mcza4dw0
Posting on Facebook on May 2, Harry wrote: "So sad to say my nan, one of the most influential people in my life, has passed away.
He added: "Goodnight nan x".
Viewers of Saturday night's show who have experience with Alzheimer's praised his performance on social media.
@AbiTheFryer tweeted: After working with dementia patients all day, absolutely sobbing at Harry Gardener's audition on #BGT
@stephanieboy84 wrote: Wow @HarryGardner_ you brought me to tears! What a moving song. Really touching.Looking forward to hearing more from you! #BritainsGotTalent
A Virgin fund-raising page set up by Gardner to raise cash for Alzheimer's Research UK saw an influx of donations following his performance, with one donor writing: "Your song had me in tears, my grandad was diagnosed 4 years ago and when u sing about still being in there is how I feel about him, love him to bits good luck."
Get the latest updates, reviews and unmissable series to watch and more!
Thank you for signing up to Whattowatch. You will receive a verification email shortly.
There was a problem. Please refresh the page and try again.