Britain's Got Talent: The penultimate set of auditions!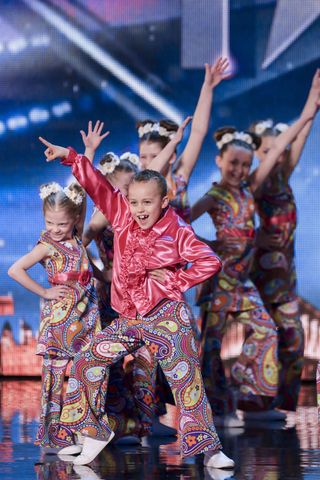 There was a distinct lack of dogs* in the penultimate set of auditions this week, but that doesn't mean the show was any less entertaining. Among the acts was a troupe of tap-dancing pensioners, a seven-year-old boy playing the piano blindfolded, a vocal harmony group made up of 12 hunky fellas, a woman singing a song about her love of crumble and an extremely bendy young man!
There were quite a few decent singing acts in this lot of auditions. Among them were 10-year-old Gracie Wickens-Sweet, who performed Somewhere Over The Rainbow, as if a place at stage school depended on it. Meanwhile, Daniel Chettoe can definitely sing but, as Simon said, it did sound like he had swallowed an old man (not a nice image, we know) and it was the poor old fella's voice that was coming out.
And when The Kingdom Tenors strolled onto stage – the sight of 12 not-unattractive and fairly fit young men was enough to get a yes from us. But of course, you can't get by on your looks alone and you can't just bring a group of fitties on stage and call it an act! What would the Queen say? Luckily, the boys happen to be a great vocal harmony group so their performance of You Raise Me Up saw them through to the next stage of the Britain's Got Talent process.
Talking of singing groups, another hit of the night was The Sakyi Five – brothers Reece, Aaron, Carl, Eden and Emmanuel. Their audition didn't get off to the best of starts but they redeemed themselves with a rendition of One Direction's Little Things.
Probably the best vocal performance of the night was from Emma Jones, who was nervous about singing in front of the crowd and the judges. After a montage of failed auditions by other acts to show us what happens when your nerves get the better of you, Emma took the stage. Would she get through her performance without falling to bits? Of course she would! Her rendition of Ave Maria brought up the hairs on the back of our necks. The judges loved her and gave her four yeses.
Dance-wise, we had a funky routine by Groove Thing – a young dance troupe of girls fronted by cute-as-a-button lad Ben; Luca Calo, a 23-year-old barman who showed off his dancing skills while wearing a pair of very high heels; four pensioners calling themselves The Cocooners, who had us fooled before a quick costume change saw them break into an energetic tap dance routine. But the stand-out dance act was Bonetics – aka student Junior – who's probably the bendiest young man we have ever seen!
At the start of the show, David was the only judge who hadn't hit the golden buzzer. But that changed when Lorraine Bowen turned up and sang a song about making crumble while playing the keyboard on an ironing board! It was a bit controversial considering the other judges had hit their red buzzers. Like Mr Walliams, we loved Lorraine's performance and look forward to seeing her in the semi-finals. And is't that song catchy? Altogether now, "Everybody's good at cooking something, and I'm good at cooking crumble…"
*If you missed the presence of a dog-based act in tonight's show, don't worry there's one in next week's final set of auditions!
Get the latest updates, reviews and unmissable series to watch and more!
Thank you for signing up to Whattowatch. You will receive a verification email shortly.
There was a problem. Please refresh the page and try again.