Britain's Got Talent: Who reigned supreme in Week Two of auditions?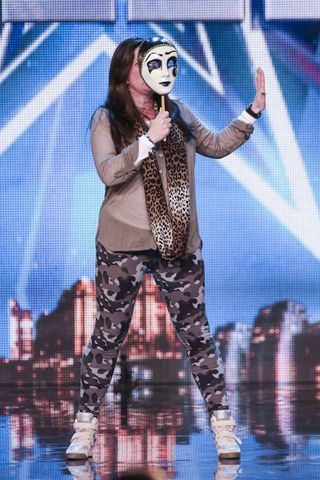 Variety, they say, is the spice of life. And variety is definitely what you get on Britain's Got Talent. You just never know who or what's going to turn up on that stage!
With The Voice, The X Factor and Strictly, it's all about who can sing or dance the best, so it's great to see a mixed bag of talent. And like last week, tonight did not disappoint. As well as singing and dancing, there were puppets, cute kids, three clowns with bagpipes, a bunch of breakdancing lads and a 76-year-old men performing a routine with cowbells!
Kicking off the show was 9-year-old Jesse Jane McParland from Northern Ireland who shocked and surprised the judges with a spectacular martial arts performance. Not only was she the first act of the night but she was the first to get a clean sweep of yeses from Simon and co.
There were two stand-out acts of the evening – the first being Boyband, aka teenagers Corey, Mike, Dylan, Jaih and Mikey. The lads' hip hop and breakdance routine didn't only wow the judges but also Ant and Dec, who used their golden buzzer to send the boys straight through to the live shows.
The other stand-out act was 12-year-old Henry Gallagher who performed his own song about a girl he has a crush on. Awwww. Not only did he have everyone ooh-ing and aah-ing in the audience but his singing, dancing and the song itself were all top-notch. Talk about pop star in the making!
Like Narinder Dhanni, who played tunes on a comb last week, we didn't expect any of the judges, least of all Simon, to be impressed by a bloke performing with cowbells. But Joseph Friedmann, 76, got a yes from all the judges. Becky O'Brien, a 34-year-old English teacher and mum-of-five from London, was also a hit with the judges, as was magician Jamie Raven, 30. The more senior Jeffrey Drayton, 73, also got through to the next stage of the competition, albeit with only three yeses.
Sent home tonight were: sixty-somethings Jane and Dolores, who got two yeses from the judges with their oddly-titled song You Defrost My Heart At A Million Degrees; Hayley Pyke, a 42-year-old receptionist from Scotland, whose performance of The Show Must Go On with a theatrical mask failed to get any yeses from the judges; musical duo Arlene and Doug from Aberdeen; comedy entertainer Adam Lazarus and his puppet pals from Essex; and comedian Peter Cumine from Winchester.
Get the latest updates, reviews and unmissable series to watch and more!
Thank you for signing up to Whattowatch. You will receive a verification email shortly.
There was a problem. Please refresh the page and try again.