Call the Midwife creator's new version of Little Women among 47 hours of new BBC drama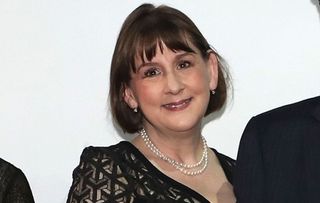 The BBC has announced 47 hours of new drama commissions, including a new adaptation of War of the Worlds
Classic novel Little Women is being adapted into a BBC1 series by the creator of Call The Midwife.
Louisa May Alcott's coming-of-age story, about four sisters on their journey from childhood to adulthood, was first published in 1868.
Drama bosses want the new screen version to 'speak to contemporary audiences' and 'bring a whole new generation' to the story.
Writer and executive producer Heidi Thomas (pictured), creator and writer of hit BBC1 series Call The Midwife, said: "Little Women is one of the most-loved novels in the English language, and with good reason.
"Its humanity, humour and tenderness never date and as a study of love, grief and growing up, it has no equal.
"There could be no better time to revisit the story of a family striving for happiness in an uncertain world and I am thrilled to be bringing the March girls to a new generation of viewers."
The mini-series will be directed by Vanessa Caswill, whose credits include teenage drama My Mad Fat Diary.
Little Women was an instant success when it was originally written in two parts and was later adapted for screen and stage several times, including for the BBC.
Executive producer Colin Callender said: "This is a character study of young women, rich in texture and detail, and it's an honour to be able to bring it to life in this extended form with the great Heidi Thomas, one of the finest writers working in television today.
"In the hands of the exciting directorial style of film-maker Vanessa Caswill, we hope to deliver a new screen version that will speak to contemporary audiences, meet the expectations of the book's ardent fans and bring a whole new generation to this great classic."
The cast for the three-part series has not yet been announced.
As well, BBC1 announced that HG Wells' alien invasion novel The War Of The Worlds is being turned into a British TV drama.
The three-part drama, following one man's attempt to escape ruthless Martians, is being made by the producers of TV hits Poldark and Victoria.
It is being billed as the first British TV adaptation of Wells' famous novel, in which the inhabitants of Earth fall victim to a violent invasion, and will be set in Surrey, the book's original location.
Writer Peter Harness, whose credits include Doctor Who, Jonathan Strange & Mr Norrell and Wallander, said: "I'm feeling phenomenally lucky to be writing The War Of The Worlds, and blowing up gigantic swathes of the Home Counties at the dawn of the 20th Century.
"Wells' book is ground zero for all modern science fiction, and like all the best sci-fi, manages to sneak in some pretty astonishing comments on what it is to be a human being too.
"I'm hoping to follow in the great man's footsteps by making a terrifying, Martian-packed series which manages to be emotional, characterful, and – deep breath, dare I say it – even political at the same time."
Damien Timmer, managing director of producer Mammoth Screen, said: "It's a great honour to bring HG Wells' masterpiece to BBC1. This huge title – the original alien invasion story – has been loosely adapted and riffed on countless times, but no-one has ever attempted to follow Wells and locate the story in Dorking at the turn of the last century.
"We hope Peter's adaptation will be the definitive adaptation of one of the great classic novels – and a visceral, thought-provoking thrill ride."
Filming will begin early next year.
The announcement was made as part of 47 hours of new drama commissions, including two more series of Line of Duty.
They include A Very English Scandal, directed by Stephen Frears, about the trial of the Liberal leader Jeremy Thorpe.
The series will be penned by Russell T Davies, the former executive producer of Doctor Who, from a book by journalist John Preston.
Davies said: "I've wanted to write this story for years, ever since I was 16 and saw it unfold on the news. It's probably the first gay story I ever heard."
BBC2 highlights include Summer Of Rockets, playwright Stephen Poliakoff's semi-autobiographical series set in the UK during the Cold War.
BBC1 highlights also include Giri/Haji, a series about a middle-aged Tokyo detective, who travels to London in search of his wayward brother, and which will also be broadcast on Netflix.
Another drama, Informer, tells the story of a second generation Pakistani man from east London who is coerced by a counter-terrorism officer to go undercover, while the BBC also announced a tale of sexual repression and forbidden love in Black Narcissus.
BBC Drama controller Piers Wenger said that he wanted 'a strong streak of Britishness to run through the centre of everything we do'.
"It gives us distinctiveness in a crowded landscape and a strong identity internationally," he said.
"I think that it's the individuality, chutzpah, determined vision and tireless curiosity at the heart of Britain's creative community which has played a huge part in turning drama from the UK into such a valuable cultural export and so I'd like the next five years of drama from the BBC to be a celebration of British authorship, identity and life in all its most diverse forms."
He said that the BBC was challenging 'conventional wisdom on what popular drama is'.
"In a world where there is just so much content, it's never been more important for BBC drama to deliver the unexpected and for us to be clear and strong on what sets us apart."
BBC director-general Lord Hall, who co-hosted an event to announce the new drama titles, said: "Delivering high-quality drama that engages and excites the public is a priority for the BBC. The commissions we have announced will continue to deliver just that. It's an exciting time ahead for fans of great drama."
Get the latest updates, reviews and unmissable series to watch and more!
Thank you for signing up to Whattowatch. You will receive a verification email shortly.
There was a problem. Please refresh the page and try again.