Call the Midwife's Emerald Fennell: 'Can they keep the love affair secret in a house full of people?'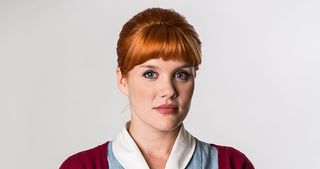 (Image credit: BBC/Neal Street Productions)
Call the Midwife's brisk but kindly nurse Patsy Mount has fast become a favourite among fans of the heart-warming BBC1 period drama. Ever since viewers realised she was gay in the last series, our hearts have gone out to the secretly vulnerable redhead, sensitively portrayed by Emerald Fennell, as she struggled to keep her relationship with fellow nurse Delia Busby (Kate Lamb) hidden.
We were all in bits when they were separated last series after Delia was left injured and bewildered by an accident and her intolerant mother whisked her home to Wales. Thankfully, the couple were reunited at Christmas and this week Delia moves into Nonnatus House.
But Patsy faces further challenges in this week's episode when a epidemic breaks out after a new mum from a large extended family contracts deadly typhoid. The tumultuous case has far-reaching effect including bringing back traumatic memories of Patsy's own childhood in a prisoner of war camp.
TV Times caught up with bubbly Emerald, 30, who is also currently appearing in cinemas across the land alongside Eddie Redmayne in The Danish Girl, to find out more….
Can you tell us what reaction there was when Patsy and Dr Turner (Stephen McGann) discover the outbreak?
"Everyone feels like they're in the past again because typhoid is seen as a Victorian disease. Because of Patsy's own personal horror she can recognise it early and she knows how fear takes hold and how dangerous it is when it spreads. It's panic stations."
We discover that Patsy's mum and sister died of typhoid in a prisoner of war camp, so what impact does the case have on her personally?
"Bottling things up has been her survival mode, so it is horrifying for her to be flung back to that time again. Patsy has always been a lone wolf, but at Nonnatus House she has found a family and she has her love for Delia but the typhoid reminds her not to get too comfortable with her life, she always has a fear that something will go wrong."
Delia also moves into Nonnatus House this week, can they finally be happy?
"Well, it's wonderful because they thought Delia would never be allowed by her mother to leave Wales – we'll see a lot more of Mrs Busby [Maxine Evans] later in the series. But it's frightening, too, because they have to keep a love affair secret in a house full of people. There's no privacy and a constant fear of being caught. Can they keep it under wraps? Wait and see!"
What reaction from viewers have you had to Delia's return because many fans were cross that they were parted?
"I know, and the awful thing was, we knew she was coming back but we couldn't say! The response has been overwhelming, it is so nice to be one part of a love affair that people are really invested in. I get lovely letters from young women. It is important for them to see a lesbian relationship in a show that they watch with their families. I feel grateful and proud to be welcomed into people's living rooms in that way."
Will there be any light relief for Patsy later in the series?
"Ha ha! Yes, we see more of the girls hanging out together, which is fun, and they have a knees-up. We all get on so well off-screen and you can feel that extra warmth when you watch it. When we are on a break between series, as we are now, we spend the whole time texting each other. I've made best friends for life."
It sounds like you still really love being part of the show…
"Oh, Call the Midwife has been amazing professionally because it is so challenging and acting with people like Judy Parfitt [Sister Monica Joan], Pam Ferris [Sister Evangelina] and Linda Bassett [Nurse Crane] and my hero Jenny Agutter [Sister Julienne] is just a dream!"
Do you get recognised?
"No, because I'm blonde in real life so that helps! Occasionally I do though and it was lovely just before Christmas when I was shopping for emergency parsnips, and a man and his two teenage boys came up and said, 'We're obsessed with your show, we love it!'"
You're also an author too of children's horror stories, the Shiverton Hall series, and also adult thrillers, is it fun writing and acting?
"Yes, the books are very dark, so it is great to have something so different from Midwife. My mum [author Louise Fennell] loves reading all the horrible bits, but my father [jewellery designer Theo Fennell] was ashen-faced when he read my last one! It is nice to do both because I love writing, but when it gets lonely I can go and be in a room full of people and act. Then, after six months on Midwife, I have a good idea what to write next. I'm writing a script for a thriller now and a new adult book."
Were you never tempted to follow your dad into jewellery design or your sister Coco Fennell into fashion?
"I'd love to have done, they're brilliant, but I would come up with mad things that no one would wear, I'd be hopeless. They are both always drawing and are so visual ,but sadly I lack the talent."
Do you have any dream roles?
"I love dark comedy so I'm desperate to do an Inside No 9 [Steve Pemberton and Reece Shearsmith's BBC2 comedy anthology] and I love Doctor Who, too. Anything with an unusual twist I enjoy. I want to marry my loves of acting and horror too and play a girl who does a lot of screaming and running away from an axe murderer. Or I could even play an axe murderer myself. I'd love to play a real baddie, a psychopath, because Patsy is such a good person."
We'd love to see that! Your co-stars Helen George [Trixie] and Laura Main [Shelagh] did well on Strictly and its Children in Need special respectively last year – would you ever take to the dancefloor?
"I don't think so. I'm so bad at dancing to a point where it's like my body and my brain aren't in the same building! Helen is so talented and Laura is just a complete natural, but I'd break my ankle in the first five minutes!"
Get the latest updates, reviews and unmissable series to watch and more!
Thank you for signing up to Whattowatch. You will receive a verification email shortly.
There was a problem. Please refresh the page and try again.