Call the Midwife's Laura Main: 'I'm pleased everything's not automatically rosy'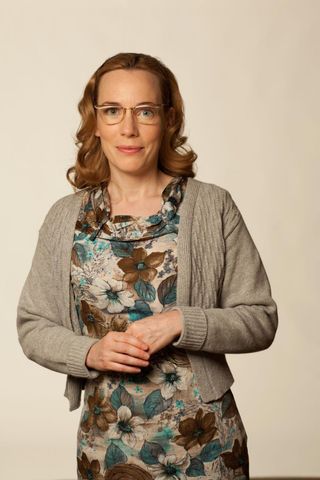 Call The Midwife star Laura Main talks abut her devastating infertility storyline and the secret set to shake Shelagh's marriage…
After the difficult decision to leave behind her life as Sister Bernadette and marry Dr Turner (Stephen McGann), this year has seen your character Shelagh come to terms with the crushing blow that she will never give birth to a child of her own. Has it been tough to film?
"It's been a really emotional storyline to film. I've found it very upsetting because it's sadly a reality that some people who want to have children just can't. When she was living as Sister Bernadette, Shelagh had the urge to have a different life – she's so good with children and she was picturing having a family with Dr Turner."
Were you pleased to get the chance to tackle such a difficult storyline?
"It's very sad, but I was so pleased when I found out what would happen. When Shelagh got engaged everyone said to me, 'Oh she's going to have a baby in soon then,' and it seemed the obvious thing to do, but in a series about birth I think it's very important to show the other side of that, and that pregnancy is not possible for everybody."
Why do you think that's been good to highlight?
"I'm pleased that everything's not automatically rosy now that she's married – real life isn't like that. As an actress I'm happy because Shelagh had such a huge journey in series two and part of me thought I'd had my turn at a big storyline – it's lovely that there's still really interesting stuff for me to do!"
Are we right in saying that Shelagh now becomes excited about the prospect of adopting a child, to be a brother or sister for her stepson Timothy?
"Yes. Shelagh has too much medical knowledge and that makes hope difficult, so she definitely sees adoption as a positive way forward. She lost her mother very young, as did Timothy and I think part of becoming close to Doctor Turner was about wanting to help his son. There's a genuine bond between Shelagh and Timothy and she knows that she can love somebody else's child."
What's the reaction been like so far to the storyline?
"I've been really touched by people getting behind Shelagh, they've said such lovely things. Viewers have really taken her to their hearts, and her relationship with Dr Turner, and it's nice that people are still supporting them now that they're married. I never get feedback in person though because nobody ever recognises me!"
Why do you think the show has proved such a hit?
"The whole job has just been absolutely wonderful – it's a totally unique show. When it came along there hadn't been anything like it, it was a new subject matter and the writing is just wonderful. It's really difficult to pinpoint, but every episode makes me laugh out loud somewhere and involves shedding a tear. It's real life and it's interesting to see how things were in the Fifties."
And the characters are wonderful, too!
"Our characters are very independent, the career women of their time and Chummy's storyline about wanting to go back to work is a reflection of attitudes beginning to change at the start of the Sixties. I just love playing Shelagh. It's a really warm and special working environment on set and there's never been any complacency, everyone wants to do their best. Here's hoping we get to make lots more!"
Get the latest updates, reviews and unmissable series to watch and more!
Thank you for signing up to Whattowatch. You will receive a verification email shortly.
There was a problem. Please refresh the page and try again.