Midwife's Jenny Agutter: 'It's a nerve-wracking time for Sister Julienne!'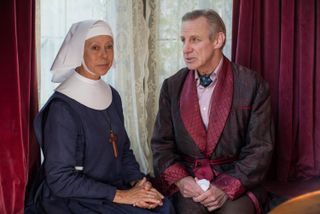 Jenny Agutter reveals there are some testing times to come for nun Sister Julienne in Call the Midwife... And her resolve is stretched to its limits with the arrival of a face from her past!
Jenny says: "Sister Julienne has some really big problems with the Nonnatus House building. It isn't very stable and it's a constant battle for her to keep things going. She also needs more experienced midwives. It's a nerve-wracking time for her!"
In this Sunday's episode, help comes from unexpected quarters when the reverend mother calls with the answer to Sister Julienne's prayers. What's on TV can reveal Nonnatus House has a mystery wealthy benefactor, who wants to meet her...
Yet instead of allaying the nun's fears, Sister Julienne's nerves are shaken further when she meets wannabe benefactor Charles Newgarden. It turns out Charles (Nicholas Farrell) is an old beau who knew her when she was a young girl called Louise!
Visibly shaken by her strong emotions, the normally composed Sister Julienne flees from Charles' house and refuses his generous offer to become Nonnatus' new patron…
Jenny says: "We find out a great deal more about Sister Julienne. This old friend from her past gives us an idea of where she's come from and how she came to the church. There are a lot of surprises for her to deal with!"
Left short-staffed by the recent departures of Chummy and Cynthia, coupled with a leaking roof and rat infestation, it looks like the normally unflappable nun is stretched to her limits. Will she crack under the strain when Sister Evangelina (Pam Ferris) reveals she is in need of a serious operation, and her blunt replacement midwife, Phyllis Crane (Linda Bassett), rubs everyone up the wrong way ?
Find out when Call the Midwife screens on Sunday, January 25, at 8pm on BBC1.