Casualty reveal: Rita and Iain hook up!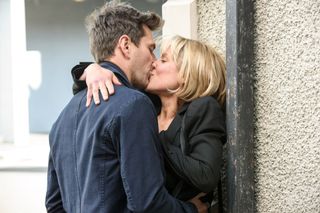 (Image credit: BBC PICTURES)
We've already told you that Holby City Paramedic Iain Dean (Michael Stevenson) gets lucky in this Saturday's Casualty, but now we can reveal it's with staff nurse Rita Freeman!
Emotions are running high after last week's terror attack on Holby hospital. And when you add paramedic Jeff's anniversary drinks into the mix, it makes for some uncharacteristic behaviour among the Holby staff…
Exhibit A: Reserved Doctor Lily Chao (Crystal Yu) decides she's going to get drunk as a lord. She even ventures into (really bad) joke telling territory!
Exhibit B: Iain propositions Rita at the bar, and asks her if she wants to hook up for a one night stand… And, as our picture above reveals, she says yes!
Is this a one-time thing? Will it lead to heartache? Or, with Zoe and Max on the verge of divorce, will the paramedic and nurse end up becoming Casualty's new favourite couple?
For more read our episode reveal here:
Watch the episode on BBC1 at 9.10 on Saturday, October 3.
Get the latest updates, reviews and unmissable series to watch and more!
Thank you for signing up to Whattowatch. You will receive a verification email shortly.
There was a problem. Please refresh the page and try again.