Casualty star Michael Stevenson: 'I only came in for one storyline!'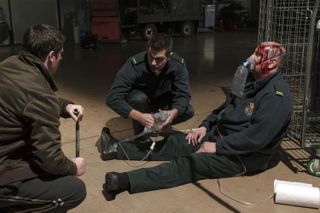 Casualty star Michael Stevenson revealed he can't believe his luck to have landed the role of paramedic Iain Dean in the long-running medical drama.
He told What's on TV: "I've been dead lucky. I went in to serve one storyline and ended up with stories of my own!"
Michael, who first made his appearance in the drama as an ex-boyfriend of Dr Sam Nicholls (Charlotte Salt) in 2012, explained: "The whole reason Iain came to Holby was to track Sam down. He was hoping to rekindle the relationship they'd had in Afghanistan. He thought she would be someone he could get close to, and could understand what he'd been through. But he discovered she had a boyfriend, Tom, who she ended up marrying."
Since Sam and Tom's departure, Iain has been festering in his own problems and secretly suffering from posttraumatic stress disorder. The story climaxes this week when Iain and Big Mac end up in a terrifying hostage situation at the hands of Iain's traumatised ex-army buddy, Kenny.
"I've been so lucky to come straight into the love story with Sam and then for this other storyline to develop. I always knew of the history of the character and that Iain has a secret from Afghanistan when I joined Casualty. But my character was never intended to be as involved as he's become. I'm very lucky they decided to explore it further!"
To find out if Iain and Big Mac come out of the hostage situation alive watch Casualty this Saturday on BBC1.
Get the latest updates, reviews and unmissable series to watch and more!
Thank you for signing up to Whattowatch. You will receive a verification email shortly.
There was a problem. Please refresh the page and try again.