Casualty's Sharon Gless reveals contents of DELETED SCENES - plus 7 more behind the scenes secrets!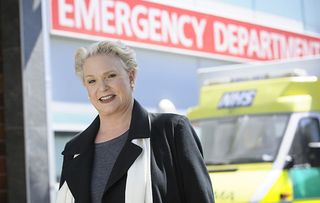 (Image credit: BBC / Alistair Heap)
Sharon Gless reveals fantastic behind-the-scenes secrets about her return to Casualty as pioneering neurosurgeon Zsa Zsa Harper-Jenkinson - including what happened in a deleted scene
Ian McKellen appeared in ten memorable episodes on Coronation Street, Sigourney Weaver twice on Doc Martin… Every now and a TV cameo seems so unbelievable it could easily be mistaken for a dream! Last year when it was announced Cagney & Lacey legend Sharon Gless was guest starring in BBC1 medical drama Casualty, our excitement levels were turned up to 11.
And, like Ian McKellen on Corrie as con man Lionel Hipkis (masquerading as author Mel Hutchwright) or Sigourney Weaver's outraged American tourist Beth Traywick in Doc Martin, Sharon Gless didn't disappoint in her Casualty role, as neurosurgeon Zsa Zsa Harper-Jenkinson. Which is why she's returning for a second outing!
But what makes a big star embrace a playful or unusual TV guest role? Are there stipulations and conditions viewers don't know about?
We talked to Sharon Gless who reveals eight behind-the-scenes secrets, some of which tempted her back to Casualty…
Scenes of Zsa Zsa receiving nurse David Hide's phonecall didn't make the final cut
Here Sharon explains the contents of the deleted scenes: "The person Zsa Zsa is closest to is Dylan Keogh, played by William Beck. He's the reason she came last time. Dylan is in trouble and David - played by Jason Durr - calls Zsa Zsa when she's right in the middle of her teaching class in New York. She can tell something is wrong on the phone – and the next time you see her, she's landed in Holby!"
Fingers crossed for a BBC red button reveal!
It took three scripts to convince Sharon to return to Casualty
Sharon says: "The first one they submitted just didn't sing like the other one did, so they did it again… three times, and came up with this wonderful story.
"The character of Zsa Zsa was apparently very well received last year, so it's hard to follow your own act. When they invited me back it was exciting but then I thought 'now I get to do this again I want it to be as well received as it was the first time.'"
Sharon's verdict on this Saturday's episode? "It's a wonderful script. I love it," says Sharon. "The writers did a bang up job, and this time I got to work with Amanda Mealing, who plays Connie."
Speaking of which…
Amanda Mealing requested screen time with Sharon
Sharon says: "Amanda said she was unhappy that last year we didn't get to work together, so this year when they invited me back I think she asked if they could write a scene for us."
Speaking about the showdown between Zsa Zsa and Connie, Sharon reveals: "It's so combative that I think it's funny. I had a wonderful time doing the scenes. Amanda is wonderful and it was fun for us to work together."
Sharon had some requests of her own…
Sharon says: "The BBC have been so good to me because when they invited me back I said 'may I have my same producer?' I asked for Daf Llewelyn, and they got me Daf. They also brought back Jordon Hogg to direct me. Isn't that nice?"
Sharon relies on others to be her performance barometer...
Sharon still hasn't watched her first Casualty episode… and has no intention of watching the new one, either!
Sharon says: "No, I didn't watch the first one. I've never been able to watch myself, even in Cagney & Lacey. I just can't look at myself because all I see is negativity… that I'm terrible or oh boy, you got fat!
"I wait for Daf to call me and tell me he loved it – at least that's what I hope he'll say!"
Being adored by your peers doesn't hurt…
Sharon says: "Last year when I was in the make-up chair Amanda came into the make-up department and got down on the floor and started worshipping. So this time she did it too - just to keep the story going!" Sharon's response? "I said, oh get up, stop it!"
Casualty's medical jargon is hard to master… so Sharon keeps it somewhere handy!
Sharon says: "The flake blood didn't bother me when we were shooting; the only thing that bothers me is the lengthy medical dialogue. I always have to plaster it somewhere, on a wall or a table!"
Zsa Zsa could be back in the future
Sharon says: "I hope Casualty invite me back again next year. It's fun to do this character. They write her so large. She is funny and she is serious, and I have these wonderful actors I get to work with. What a treat!
"That's the problem, once they hand you a little gift and invite you back, if they don't invite me back next year… I guess I stunk up the roof!"
Catch Sharon Gless's second Casualty appearance this Saturday on BBC1, as Dylan's mentor, Zsa Zsa. This time Zsa Zsa gets a call that her former student has gone off the rails and needs her help. And, in her desperation to stop Dylan pressing self-destruct, Zsa Zsa is louder and more lovable than ever…
Get the latest updates, reviews and unmissable series to watch and more!
Thank you for signing up to Whattowatch. You will receive a verification email shortly.
There was a problem. Please refresh the page and try again.