Casualty's one-take episode explodes (...but the cast were on top form)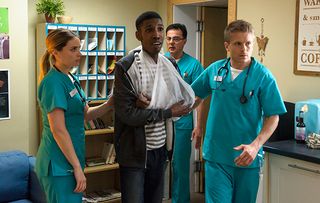 Filming this episode all in one take was an ambitious task. But did Casualty's one-take episode live up to your expectations?
From the get go of Casualty's one-take episode viewers were thrust into the ever chaotic trauma of the emergency department.
It was an ambitious goal to film the episode, titled The One, in one continuous shot, but it added to the theatre of the show's 30th anniversary series.
The episode, which marked the end of BBC1's year-long anniversary celebrations, focused on a tragic house fire, which resulted in the death of a baby.
Paramedics Jez and Iain were first on the scene, but were unable to retrieve the baby as they only found out about the missing tot after they left the property. Jez struggled to deal with this guilt throughout the whole episode.
The core cast's personal storylines were put to one side for the episode; it was all about the wider drama of an ED in chaos.
What did you think?
We would love to find out what you thought of Casualty's one-take episode. Was it as action packed as you hoped or did it disappoint? Let us know in the comments section below or join the conversation on our Facebook (opens in new tab) page!
Nurse Duffy was at the centre of the episode. Actress Cathy Shipton, who plays Duffy, was given centre stage, showing around two meddlesome work experience girls, Chloe and Diamond, as well as getting through a particularly explosive day in the ED.
While Diamond, who had hopes of becoming a consultant, started out brash and over-confident, it was Chloe who looked set for a career in the medical profession after the pair's intense introduction.
In an exclusive interview with What's On TV Cathy revealed that the girls were destined to cause more trouble than help. Overwhelmed by some of what she sees, Chloe was sick all down Diamond!
Cathy said: "They go to places they shouldn't and hear things they shouldn't hear. Then they use that information either naively or in a meddling way!"
Erika Hossington, Casualty (opens in new tab) series producer hoped the episode would 'reflect the front line in its unedited, rawest form' and it certainly did that.
Impressively, there were no noticeable slip-ups.
Cathy said before it screened: "There's all sorts of ways around fluffed lines. All the cast knew there'd be some improvising – acting is reacting. There was an element of sink or swim!"
Get the latest updates, reviews and unmissable series to watch and more!
Thank you for signing up to Whattowatch. You will receive a verification email shortly.
There was a problem. Please refresh the page and try again.