Casualty's Crystal Yu and Chelsea Halfpenny: 'We get the giggles after our mean scenes'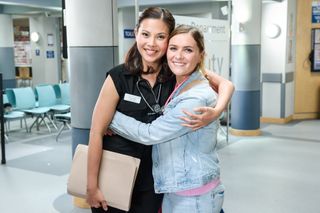 (Image credit: BBC PICTURES)
What's on TV (opens in new tab) can reveal this week grieving Lily bullies Alicia to such a degree the junior doctor decides to hand in her notice!
Here Crystal Yu (opens in new tab) and Chelsea Halfpenny (opens in new tab) discuss what's in store for their Casualty characters, Lily Chao and Alicia Munroe, when the long-running medical drama returns to BBC1 on Saturday…
It is no secret Lily's jealous of junior doctor, Alicia. Would it be fair to call her a bully?
Crystal: "Absolutely, in the sense Lily's allowing her emotions to get the better of her since the death of her father. Lily believes work and medicine will shield her from the pain she feels, but she isn't able to compartmentalise like she usually does. With the mixed emotions of feeling abandoned by her father and guilt at not being there for him… well, the repercussions of all that are her actions and behaviour towards Alicia!"
Interestingly, Lily's loss makes both the bully and her victim sympathetic characters….
Chelsea: "It would be easy to dislike Lily but because Crystal plays her so well, you feel sorry for her too. You can see her pain and why she's behaving the way she is."
Crystal: "I've had to be quite mean to Chelsea, though when they called 'cut' we'd giggle our heads off! I'm not really that mean in real life… Apart from when I'm hungry!"
Does Lily realise she's bullying Alicia?
Crystal: "Lily doesn't really know where her emotions are on a day-to-day basis. She wakes up and thinks 'I'm just going to focus on my job, the medicine, and treating the patients'. But she doesn't anticipate all the emotional human interaction that surrounds everything she does. There's a level of unawareness - Lily says things in the heat of the moment and then regrets them, but she's too proud to own up or say sorry to Alicia."
There's an element of jealousy too, though, isn't there?
Crystal: "There's definitely a level where Lily's irritated with Alicia because she gets on so well with everybody and Connie's fast-tracking her. Whereas Lily finds interpersonal skills really hard!"
Chelsea: "I don't think it's jealousy. I think Alicia arrived at the wrong time to be honest. It's annoying when someone's sprightly and happy when you're going through a rubbish time in your life. If you're not feeling so great in yourself then everything going on around you is heightened.
"It's more the personable side of Alicia's personality that Lily just can't cope with. She can't comprehend that Alicia can both work efficiently, and make time to have relationships with the patients. Lily's way more advanced as a doctor than Alicia, but she's distracted with her personal life at the minute."
Alicia's coped really well with Lily's bullying so far. What changes this week?
Chelsea: "She tries to let it go over her head at first. She sort of says 'oh, it's fine.' She's got this outlook on life where she doesn't take everything to heart. She feels quite bad for Lily about her father's death and I think she just wants to be her friend. But then things start to get worse and she's starts to think Lily's being harsh now."
Do you think if the timing had been different Lily and Alicia could have been friends?
Crystal: "Alicia is the one person who wants to be there for Lily and be her friend. For Lily that's difficult to comprehend because she's so good at being defensive. Alicia is so lovely and kind, she wants to hug Lily and understand her, but that makes her even more of a target for Lily!"
Alicia's pushed to the limit this week when a child in her care goes missing and she's later forced to treat a patient in the back of a van. And after all that Lily calls her stupid and incompetent! Is this the final straw?
Chelsea: "It's so harsh! But Alicia just takes it and takes it, and then it all just erupts! Alicia's stuck on her own literally with somebody's life in her hands, as a guy with a crowbar tries to smash his way into the van! She's in the line of fire and it gets all a little bit too much… That's when she realises the true depths of the job.
"I think it's down to Lily's lack of support. That's what Alicia is most gutted about. She's got all this aspiration and excitement but feels completely worn down. Unfortunately when she has this awful experience as a doctor she feels she's not strong enough to take it any more. It probably would have been better if she'd discussed it earlier, but she lets it build up and then she's like 'see ya!'."
Given how much Alicia loves the job, were you surprised she quit?
Chelsea: "Maybe it's slightly impulsive, but we need to remember is this is her first job and she's only been there a couple of months. It's a lot of pressure and, because of the lack of support, she feels lonely. But it's left open ended… Is she leaving the hospital, or is she leaving the career altogether? We don't know. She just says she doesn't know if she can do this. It's sad."
Is the door still open for Alicia to return?
Chelsea: "We'll have to wait and see! But I've really enjoyed it and been really happy at work because everyone's so nice! The vibe at Emmerdale was so nice and I never thought I'd get that again, so I feel like I've been spoiled. It's also nice to play someone who's happy all the time. It reflects on my own mood. When I was in Emmerdale I played someone who was really moody all the time and I think it made me moody as well, so it's lovely to play someone happy!"
Crystal: "Chelsea's like her character. She's so lovely. On the first day she came bearing cupcakes!"
Read more on this episode here (opens in new tab)
With twenty years of experience as an entertainment journalist, Elaine writes for What's on TV, TV Times, TV & Satellite Week and (opens in new tab)www.whattowatch.com (opens in new tab) covering a variety of programs from gardening and wildlife to documentaries and drama.
As well as active involvement in the WTW family's social media accounts, she has been known to get chatty on the red carpet and wander into the odd podcast.
After a day of previewing TV, writing about TV and interviewing TV stars, Elaine likes nothing than to relax… by watching TV.
Get the latest updates, reviews and unmissable series to watch and more!
Thank you for signing up to Whattowatch. You will receive a verification email shortly.
There was a problem. Please refresh the page and try again.