'Duffy and Charlie could be the couple who finds each other,' says Casualty's Cathy Shipton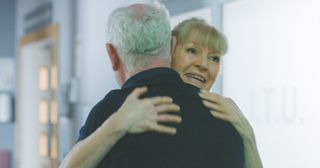 (Image credit: BBC)
Lisa 'Duffy' Duffin's return to Casualty has shocked Charlie Fairhead, and left viewers wondering whether the time is finally right for romance between Duffy and Charlie… #Chuffy
We talked to Cathy Shipton about her role on the show, both past and present, and she confirmed Duffy be back for more episodes, viewers will see her establish new friendships - and potentially reinvent old ones…
Are you pleased with the fan reaction to your return?
"It's great! I find it truly humbling. The show has such a dedicated following that seems to span all ages. It's really fantastic. Casualty fans have been really positive."
In your experience have Casualty fans always been enthusiastic and supportive?
"Yes! In the early days I was always surprised by five or six-year-olds in the supermarket who'd say, 'Look mum, it's Duffy'. I think it was probably because mum wanted to watch the show and she roped in her husband. And because they kids were allowed to stay up a bit later on Saturday night, they ended up watching it too!"
For many staying up late and watching Casualty was a childhood rite of passage…
"A wonderful girl who works on Casualty told me she's a nurse because of me – and it's because she grew up watching the show at her mum's knee!"
Do you ever imagine how different your life would be if you'd not taken on the role of Duffy in 1986?
"To be honest, in the early days I was flying about, doing the job, learning and lines and trying not to bump into the furniture! But yes – who knows what path I could have gone on. So many really important things happened to be because of Casualty – I met my partner on the show, and had my daughter because if it."
In your return episode there was a strong sense Duffy's hiding something. What can you divulge?
"Things aren't all as Duffy would want them to be at home in Auckland! There were hints of it when I came back for two episodes at the start of series 30, when we saw Duffy talking to Louise [Azuka Oforka]. It's very human to divulge things to strangers. She won't tell Charlie she feels undervalued at home, but she says it to Louise. To tell Charlie would be to have a completely different conversation!
What can you reveal about her current situation?
"Duffy's a woman of a certain age. Her children have left home and she's looking for value and purpose in her life. She's a good nurse and so she's wended her way back to Holby!"
We really liked the friction and respect between Elle and Duffy in this episode. Could we see a new friendship when you return for the 30th Anniversary in August?
"Very much and it's really interesting. In terms of hierarchy Elle [Jaye Griffiths] is the lead in the ED, because Duffy's a midwife. But in this particular episode we saw Elle losing her bottle in an area Duffy feels absolutely comfortable. I love that we see Duffy really speak her mind assertively. She's grown up and now on terra firma."
When developing this more grown up Duffy with producers, did you know who she was going to form new relationships with?
"The relationship between Elle and Duffy wasn't deliberately written in that way, but the producers were so pleased with how it crackled as a paring, hopefully it will be developed. It's good to have strong women relationships."
Will we see more between Duffy and Louise too?
"Yeah Duffy's mentoring Louise a bit. It's very mother/daughter. And it's good to see strong bonds being build among the women characters!"
It's often thought there was a romantic relationship between Charlie and Duffy in the past. It never actually got that far, did it?
"My sister and I have had so many rows about this – she's convinced Duffy and Charlie [Derek Thompson] had a full-on snog at Charlie's wedding to Baz [Julia Watson]. There was a scene where it looked like Charlie and Duffy were about to go in for a clinch, but then Baz came around the corner and it turned into a kiss on the cheek! We've had lots of lingering looks between them over the years. Maybe they will be the couple that finds each other and it all works out... who knows. I don't know, but it's good to tease!"
You know we'd like to see it!
"But what happens if you get what you want? You might get bellyache! We've had lots of lingering looks between them over the years. Maybe they'll be the couple that finds each other and it all works out... who knows. I don't know, but it's good to tease!"
Casualty, BBC1
Get the What to Watch Newsletter
The latest updates, reviews and unmissable series to watch and more!