Lee Mead to tour Hollywood musical classics with Casualty co-star Amanda Henderson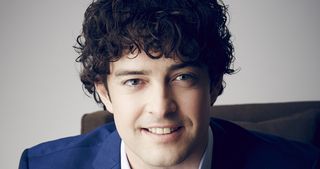 Lee Mead reveals he hopes he doesn't accidentally call Amanda Henderson by her Casualty character name when she joins him on his forthcoming music tour in July.
In Casualty, Lofty Chiltern briefly broke fellow nurse Robyn Miller's heart when he couldn't reciprocate her feelings for him. But in real-life the pair are singing from the same song sheet, and currently rehearsing for Lee's new musical tour Some Enchanted Evening.
But don't worry Casualty fans, this doesn't spell the end of Holby City ED for either Lee or Amanda. Lee explains to What's on TV why he's revisiting his musical roots and remaining committed to Casualty...
Why have you and Amanda joined forces for your new tour?
"We're very close friends, which I think is reflected in Casualty. We have such a laugh. Amanda also has an amazing voice and has performed in shows like Oliver in the West End and the Les Mis film. Because we're both from a musical theatre background it means we can bring a lot more to this style of show than other singers possibly would. I just need to make sure I don't call her Robyn on stage!"
You'll be performing classics from the Golden Age of Hollywood musicals, including Rodgers and Hammerstein's Some Enchanted Evening (South Pacific), One For My Baby (The Sky's The Limit) and The Way You Look Tonight (Swing Time). Why have you chosen this era and these songs?
"Making an album of songs that I could tour from this era has been something I've wanted to do for over five years now, if not longer! So I am really excited about singing these numbers in front of a live audience. I grew up watching these films as a kid. Films like Singin' In The Rain, Guys And Dolls, Anything Goes… It's where my passion for musicals started."
What did you love about them when you were younger?
"I can remember lying on my belly in front of the TV on a Sunday afternoon when I was around 9 or 10 years' old, and watching the classic movies from that time and being lost in the story and the music. As soon as the MGM Lion would roar at the start of every film I was hooked. I loved it!"
What do you think it is about these musicals that remains so captivating?
"I think the musical films of that time just had a certain quality you can't really recreate now. Technology in filmmaking has come on a long way since then but there is something unique and special about that period. I'm trying hard to recreate a bit of it on my tour."
You're still working on Casualty full-time while rehearsing for the tour, which starts in July. How are you managing such an intense workload?
"It's been a bit of a balancing act! I film Casualty Monday to Friday's down in Cardiff. Any time off I have during the days and evenings have been spent finding the right songs for the tour. I'll often head down to a local recording studio where I'll record the numbers for my forthcoming album and tour."
That's quite a lot of work!
"Essentially it's been two fulltime jobs. Because of filming Casualty midweek the tour dates have been spread over six months, from the summer until the end of the year, with two concerts a month. We finish at the Garrick Theatre in London at Christmas."
How has it been to land such a lovely part in Casulaty?
"To have my own part on a programme that has been running 30 years with such a big following is brilliant. I love the character of Lofty and the storylines have grown, which has been a nice challenge for me to play. I'm really proud to be a part of Casualty. It's a great show and a bit of an institution really."
For information about Lee's tour, please check his official website.
For more Casualty news, read on.
Image by Nicky Johnston via Bennett Public Relations Ltd
Get the latest updates, reviews and unmissable series to watch and more!
Thank you for signing up to Whattowatch. You will receive a verification email shortly.
There was a problem. Please refresh the page and try again.