Celebrity Big Brother's first big row: 'Are you racist?' Saira Khan asks James Whale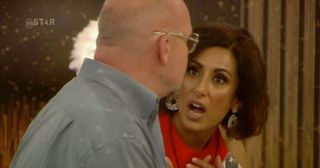 It kicked-off big time on the first night in the Celebrity Big Brother house when Saira Khan asked James Whale if he is a racist
Celebrity Big Brother contestants Saira Khan and James Whale clashed after the Loose Women panellist asked him if he was racist – and the row left viewers split about who behaved the best.
Saira said she had researched James before entering the house and had seen the claims online.
The broadcaster and talk show host, 65, responded: "I've never heard so much rubbish in my entire life."
He added: "I don't think I am known for that. Am I known for that? I don't know. I really don't know. I've been one of the judges of the British curry awards for 10 years."
Not everyone was impressed by that line of argument.
As the contestants settled in for their first evening in the house, James reignited the subject, telling other housemates that Saira thought he was a racist.
She hit back: "No, I did not think that. I did not say that. OK excuse me sir … I didn't say that, so don't twist it."
James laughed off the remark and explained he had a "strange sense of humour", saying: "I'm winding you up."
But Saira said: "If that's a wind up, some people could take that seriously."
She added: "I said 'When you type your name, it's [racism] tagged with you, and why?' And you said, 'It's unfair,' so I said, 'OK'.
"You say that and people go, 'Oh my goodness why's she said that?' All of a sudden you've created a perception."
She accepted his apology, but warned: "Don't wind me up. Because they're quite serious allegations."
Many viewers were unimpressed by Saira.
But there was also a lot of love for her firm stance and reaction to the controversy.
But blimey – with a race row on the first day, what does this mean for the REST of the series?
Celebrity Big Brother continues on Channel 5, Saturday, July 30, 9.00pm.
Snap PA
Get the latest updates, reviews and unmissable series to watch and more!
Thank you for signing up to Whattowatch. You will receive a verification email shortly.
There was a problem. Please refresh the page and try again.