Two more stars storm out of Celebrity Big Brother house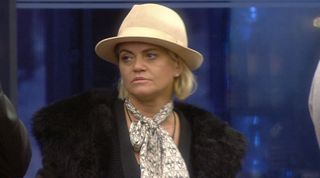 Three celebrities have already walked out of Celebrity Big Brother house, and it looked like two more were about to follow earlier today.
Gemma Collins and Danniella Westbrook left the Celebrity Big Brother house after an explosive row sparked by dirty underwear.
The former star of The Only Way Is Essex (Towie) and the ex-EastEnders actress have become increasingly frustrated with Stephanie Davis, best known for her role in Hollyoaks.
In tonight's package of highlights from the Channel 5 reality series, viewers will see how the contestants made their temporary escape.
TV star Gemma Collins in Celebrity Big Brother (Channel 5)
Matters came to a head after John Partridge, Darren Day and Christopher Maloney found a pile of unwashed laundry.
They discovered what they described as "pigeon s***" in a pair of panties.
Danniella said the knickers probably belonged to Stephanie. "I don't leave my s*** about," she stated.
Danniella Westbrook on Celebrity Big Brother (Channel 5)
The panties became the talk of the house and eventually, Stephanie confessed. "Can I just say something? Anyone who is asking about the red knickers, yeah they're mine."
Danniella took the opportunity to confront the 22-year-old over negative remarks she apparently made to other housemates.
Stephanie was accused of saying Danniella's breath smelled due to an abscess.
Stephanie Davis in CBB (Channel 5)
The Liverpudlian denied making the comments. "You're being too paranoid about so many things," she told Danniella.
However, the clash escalated and Stephanie branded Danniella "a bully", which infuriated the Londoner.
During a conversation in the Diary Room with Big Brother, the Walthamstow-born actress fumed over the turn of events.
Danniella Westbrook in CBB (Channel 5)
"I ain't getting into an argument with her because she wants me to argue with her so people forget that she's getting into bed with somebody else every night," Danniella said.
Stephanie, who has a boyfriend on the outside of the house, has been seen on camera flirting with former Mr Ireland finalist, Jeremy McConnell.
Danniella packed her bags and Gemma said: "Dan, let's just get our stuff and go."
Celebrity Big Brother's Gemma Collins (Channel 5)
Former X Factor hopeful Christopher tried to persuade Danniella to stay, but she would not listen.
She told him: "There's one nasty bit of work in this house and it certainly ain't her (Gemma) and it ain't me."
The two women burst through the fire exit in the garden and into the camera runs.
Celebrity Big Brother's Danniella Westbrook and Darren Day (Channel 5)
Later, they returned to the house and after talking to Big Brother, decided to remain as contestants.
Gemma explained why they left.
"Things have been said the last couple of days, which you might not be aware of, that are hurtful to her (Danniella) and hurtful to me. We're not made of steel. We're not made of rock. It's hurtful."
Celebrity Big Brother's Stephanie Davis (Channel 5)
Danniella was not in a conciliatory mood with regard to Stephanie.
"I'd be happy not to breathe the same air as her again in my life," she said.
Meanwhile, immunity weekend continues in the Celebrity Big Brother house. The housemates must play for their chance to escape the next public vote on Tuesday.
Lucky for Gemma, she has immunity in the next round of evictions (Channel 5)
Towie's Gemma won immunity during the first challenge which took place in Friday's eviction show.
Megan McKenna became the fourth housemate to be evicted on 22 January.
Get the latest updates, reviews and unmissable series to watch and more!
Thank you for signing up to Whattowatch. You will receive a verification email shortly.
There was a problem. Please refresh the page and try again.