Christmas TV Guide: 19 - 23 December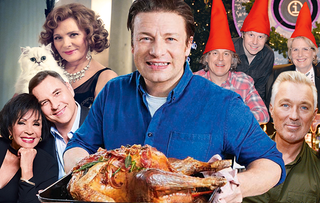 Here is our festive Christmas TV Guide with what to watch this Christmas
Jamie's Ultimate Christmas
Monday, 19 December, 8.00pm, C4
It doesn't really feel like Christmas until you've watched Jamie Oliver rustle up a festive feast and make it look as easy as child's play.
This year he goes back to basics (hurrah!), revealing how to keep your turkey moist, cook roasties to die for, create amazing veggie dishes and make gravy that will have you on the top of everyone's Christmas-card list next year.
He even shows us what to do with the leftovers!
Would I Lie to You?
Monday, 19 December, 8.30pm, BBC1
Tom Courtenay, Richard Osman (resplendent in a Christmas jumper), comedian Sara Pascoe and sports presenter Chris Kamara join David Mitchell and Lee Mack for a special festive edition of the show.
Is Chris's full name really Christmas Kamara? Does Tom always have a bowl of cornflakes in Baileys on Christmas morning?
David is outraged when Sara claims that her family doesn't listen to the Queen's Speech ('I suppose you just have pizza for Christmas dinner?' he asks), but his portrayal of a 'world-weary' Joseph opposite Richard Osman's argumentative Mary in a Would I Lie to You? Their nativity play is possibly the funniest thing you'll see all Christmas.
Last Tango in Halifax
Monday, 19 December, 9.00pm, BBC1
After a two-year hiatus Anne Reid and Derek Jacobi reprise their much-loved roles as Celia and Alan – teenage sweethearts reunited in their golden years – for a two-part special of Sally Wainwright's hit bittersweet drama.
Set two years on from where we left them at the end of series three, the plot sees Celia landing a role in a local amateur dramatics production, and it's not long before she gets poor Alan involved.
Meanwhile, Celia's daughter Caroline (Sarah Lancashire) and Alan's daughter Gillian (Nicola Walker) are, as usual, causing problems all round.
Superbly written and beautifully acted – don't miss! Concludes tomorrow night.
Sir Lenny Henry: A Life on Screen
Monday 19 December, 9.00pm BBC2
This BAFTA celebration of Sir Lenny Henry's career is an absolute delight – a funny and touching tribute, which tells how the Dudley-born comic became one of the nation's best-loved performers.
Sir Lenny looks back on his 41 years in the business, while friends and fans including Richard Curtis, Chris Tarrant and Sir Trevor McDonald sing the praises of a 'sincere, honest, chaotic and genuinely hilarious' comedian, actor, singer and fundraiser.
Prince Harry
Monday 19 December, 9.00pm ITV
'To me, that's what this country is about, you just feel welcome everywhere you go.'
Prince Harry is in Lesotho, checking up on Sentebale, a charity he started a decade ago to help people suffering from the fallout of HIV and Aids.
Clearly walking in his mother Diana's footsteps, Harry also shares her easy manner and, in an interview with News at Ten's Tom Bradby, he reveals what motivated him in the first place.
Looking for Margot
Tuesday, 20 December, 8.00pm, BBC1
Darcey Bussell describes Margot Fonteyn as 'the dancer who embodies all that is beautiful about the ballet', an inspiration to Darcey and countless other dancers.
Here, she traces Margot's story through Cambridge, London, New York and Panama, meeting those who knew her and building a portrait of a woman who went from bright-eyed prodigy to a frail, tragic figure who died alone, far from home.
A fascinating and moving tale that features lost love, a failed political coup, prison – and a late career revival that saw a 42-year-old Margot form one of the great stage partnerships when she began dancing with a fiery young Russian by the name of Rudolf Nureyev.
MasterChef: The Professionals
Tuesday, 20 December, 8.00pm, BBC2
Six weeks ago 48 chefs began battling for the esteemed title of MasterChef: The Professionals Champion 2016 – and now there are just four left.
Over the next three nights, the finalists will have to cook like never before.
Today it's the Chef's Table, where 28 of the world's best chefs gather in London to see what the final four are made of.
Who can hold their nerve to impress the best taste buds in the business?
On Wednesday (8.00pm), Monica, Gregg and Marcus will send one home, with the surviving trio heading to Oslo to work at the world-renowned, triple-Michelin-starred restaurant Maaemo.
All that's left for the chefs is to create the best three courses of their lives in one last attempt to dazzle the judges in Thursday's finale (8.00pm)!
Tuesday, 20 December, 8.30pm, BBC1
The wards of Holby may be festooned with tinsel, but the festive cheer isn't spreading to the staff.
Jac is back and crosser than ever, especially at new surgeon Matteo, and she is even mean to the nicest man in the world (and often her only friend), Sacha.
Dom gets a surprise when his unhinged and manipulative ex, Lee, is wheeled in from prison. But just when he thought his Christmas couldn't get any worse, Isaac drops a bombshell. Tis the season to be jolly, folks!
Inside the Christmas Factory
Tuesday, 20 December, 9.00pm, BBC2
After being amazed by cereal, folding bicycles, sweets, trainers and baked beans, Gregg Wallace and Cherry Healey return for a festive special of the show that reveals what goes into the creation of the nation's favourite products.
Gregg rolls up his sleeves at Britain's biggest cake factory to have a go at making mince pies, a mind-bogglingly rapid process which produces 2,000 pies every minute – and creates mayhem on the production line!
Meanwhile, Cherry looks into what goes into making thousands of miles of tinsel and historian Ruth Goodman investigates the Christmas cracker.
Paul O'Grady: Favourite Fairy Tales
Tuesday, 20 December, 9.00pm, ITV
Sleeping Beauty and Cinderella are fun, harmless children's stories, right? Wrong!
Paul is off on a trip to Germany, where he learns that the tales we tell our kids are actually based on gruesome and unsettling yarns from the Brothers Grimm.
Grimm by name and grim by nature, as we discover tales of child abuse, attacks on women and sisters mutilating their feet to wedge them into glass slippers.
Don't fret, though, this is our old friend Paul, and his hilarious sketches will keep you giggling through the shocking revelations.
Wait until you see his take on the woman in the magic mirror!
Puss in Boots
Wednesday, 21 December, 1.45pm, BBC1
This Shrek spin-off gives one of its best characters an adventure of his own. And doesn't Antonio Banderas, as the voice of swashbuckling Puss, sound like the cat who got the cream?
Like Shrek, it's full of fairy-tale characters – a bully Little Boy Blue, Jack and Jill (two huge ogres, before you start saying, 'ah, cute') and doing for Puss what Donkey did for Shrek, there's a wise cracking Humpty Dumpty, voiced by Zach Galifianakis.
To Have and Have Not
Wednesday, 21 December, 7.05pm, TMC
Humphrey Bogart is a hard-nosed fishing boat skipper who becomes involved helping locals thwart the Vichy-controlled government on Martinique while being hounded by Nazi sympathisers.
He's helped by his alcoholic first mate, brilliantly played by Walter Brennan, and slinky lounge singer Lauren Bacall. This blistering drama shot the 19-year-old Bacall to superstardom.
It places her alongside her husband-to-be Bogart, then the biggest name in Hollywood, in a film based on a story by Ernest Hemingway, made into a script by William Faulkner and directed by Howard Hawks. Now that's what you call pedigree.
The Dog Rescuers at Christmas
Wednesday, 21 December, 8.00pm, C5
lan Davies returns to highlight the work of two busy RSPCA rescue centres over the Christmas period.
At Harmsworth Animal Hospital in North London, Bully, an English bull terrier, needs a worrying lump looked at, and Lucky the not-so-lucky Yorkshire terrier is rushed in with a broken leg.
In Surrey, at the South Godstone Animal Centre, puppy Obi needs a home, and elderly shih tzu named Pudding needs some festive good cheer to see him into the New Year.
Six Wives
Wednesday, 21 December, 9.00pm, BBC1
http://www.youtube.com/watch?v=eL-0sEO8660
Henry VIII is fat, old and suffering from ill health as a wimple-wearing Lucy Worsley introduces the final programme in this three-part series.
Henry's next marriage to Anne of Cleves lasts only six months and the following wife, Catherine Howard, is beheaded.
Finally, he weds Katherine Parr, who survives Henry by a year when he dies aged 55 in 1547. 'That's not the end of the story,' says Lucy.
'After Henry's son Edward died, it was Queen Elizabeth I who ruled England for 44 years. She was our greatest monarch ever.
'How ironic that after all that was endured to give Henry an heir, the Tudor dynasty was secured by a woman.'
In Plain Sight
Wednesday 21 December, 9.00pm ITV
http://www.youtube.com/watch?v=hppEK-SCq-s
Both Martin Compston and Douglas Henshall have been sensational in this dark and complex real-life thriller.
And as it draws to a fitting close, we're really feeling Muncie's frustration and are almost as desperate as the detective to wipe the smirk from the face of serial killer Peter Manuel and see him brought to justice.
As the hunt continues for missing Isabelle Cooke, Manuel turns his sick attentions to Peter and Doris Smart and their young son Michael and claims three more lives.
But, despite putting Manuel under surveillance, there is still nothing that Muncie can do to connect the crimes to him, until Manuel pushes his luck too far and makes a fatal mistake…
Fast and Furious Day
Thursday 22 December, 8.35am Sky Cinema Greats
The later films in the series (number eight is currently in production) wandered quite a way from the original idea, but in 2001's original The Fast and the Furious, it's a case of edgy undercover cop Paul Walker to try and take down renegade street racer Vin Diesel.
Today, with numbers five and six notably absent, Sky work their way through what has become the 21st Century's most successful cinema franchise. Seat belts advisable.
The Cook Who Changed Our Lives
Thursday 22 December, 6.30pm BBC2
Anna Del Conte left Milan for London in 1949 and arrived in a country where you could only buy olive oil in Soho or at the chemist.
With the publication of seven cookbooks, she has been instrumental in changing our attitudes to Italian food. Anna's biggest fan, Nigella Lawson, tells her story within the social and historical context of 20th-century Britain.
Who Do You Think You Are?
Thursday 22 December, 8.00pm BBC1
Do Ricky's ancestors hold the key to his political beliefs?
Brookside and The Royle Family star Ricky Tomlinson is a staunch socialist and former union organiser, so he's delighted to discover that he is descended from grafters, as he puts it, rather than royalty.
His father was a carter – a trade Ricky is able to trace back to his great-great-great-grandfather Richard in the 1830s.
In those days, goods were transported by horse and cart, conditions were harsh and fatal accidents were not uncommon on the bustling streets of Liverpool. But it's what happened after death that riles Ricky the most. 'I'm so angry.
They're getting buried in paupers' graves, yet Liverpool is booming,' says Ricky.
'Maybe this is why I have the politics that I've got.'
Close to the Enemy
Thursday 22 December, 9.00pm BBC2
While Kathy puts her last moves in place to get what she needs, it's time for Dieter and Anna's wedding.
Callum doesn't exactly have his mind on the celebrations, however, as he tries to decide what to do next after his discoveries, and Alex and Rachel only give him further pause for thought about his personal life.
As ever, though, it's the lovely fraternal relationship between Victor and Callum that we really care about, especially after last week's drama.
There's a sudden shift in dynamic as Victor's the one who is desperate to prevent his big brother from doing something drastic, and he turns to Harold for help…
QI
Thursday 22 December, 10.00pm BBC2
Continuing the N series, this 'Noel' edition features guests Josh Widdicombe, Susan Calman and Matt Lucas who, along with regular panellist Alan Davies, are competing not only to gain the most points, but also to win a marzipan pig.
Host Sandi Toksvig is feeling festive: 'It's Christmas, so Alan wins that one,' she says of a round that Alan blatantly did not win.
Viewers paying close attention will be rewarded with the knowledge that the average victim of a Christmas-lights-related accident will be a 55-year-old man, and will learn the surprising origin of 'partridge'.
But those deciding to take up the frankly preposterous Victorian parlour game 'Are You There Moriarty?' might find they have some explaining to do to the rest of their family…
Miracle on 34th Street
Friday 23 December, 12.10pm C4
This lovely thick slice of Hollywood fantasy from 1947 won Edmund Gwenn an Oscar for his performance as a lovable department-store Santa Claus who is very convincing in the role.
The child whose suspicions he has to conquer is an eight-year-old Natalie Wood, while store supervisor Maureen O'Hara perfectly complements Gwenn.
The 1994 version with Richard Attenborough is also worth a watch (Christmas Eve on Film4, 11.00am), but the original is still the best.
Father Brown
Friday 23 December, 1.45pm BBC1
Father Brown (Mark Williams) is under pressure to lay on the perfect Nativity procession when he hears that the Duke of Frome (Ray Coulthard), who is staying with Lady Felicia (Nancy Carroll), will be attending the service.
But Canon Fox's demand for wholesome children, tuneful choristers, animals, snow and absolutely no Lone Ranger this year takes a back seat when the Duke's infant son goes missing.
The kidnapping, plus soloist Dafydd's laryngitis and the unexpected arrival of a flatulent homeless man called Michael (Dean Andrews), threaten our sleuthing man of the cloth's Christmas plans.
Can Father Brown bring about seasonal goodwill against all odds?
Strictly Len Goodman
Friday 23 December, 7.00pm BBC1
Just like Barack Obama leaving the White House, head judge Len Goodman waltzing away from Strictly Come Dancing is going to be quite the emotional, historic moment.
Who is going to be responsible for pickling all the walnuts now?!
It seems only fitting that the BBC should give him a super send-off after 12 years, and this show offers us the chance to reminisce about all those '10s from Len', and other wonderful moments he's shared with the nation.
Featuring nostalgic old clips, interviews with Len's fellow judges and a chat with the man himself, it's the opportunity for us Strictly fans to say a proper goodbye.
We're going to miss you, Len!
Morecambe and Wise: The Greatest Moment
Friday 23 December, 7.40pm Christmas Gold
With re-runs of old Morecambe and Wise festive specials still often some of the best stuff on TV over Christmas, this is a timely, affectionate tribute to Eric and Ern, narrated by Liza Tarbuck.
All the fave guests are here – Glenda Jackson, Angela Rippon, Andre Previn and Des O'Connor included. On Christmas Day (5.40pm, BBC2), there's a chance to see 1976's wonderful festive show in full, featuring the boys' version of Singin' in the Rain and guests including Elton John.
Citizen Khan
Friday 23 December 8.30pm BBC1 (BBC2, Wales)
The episode title – It's a Khanderful Life – tells us pretty much all we need to know about this Christmas special, which finds busybody Mr Khan seriously dissatisfied with the way his life has panned out.
Enter an angel in the shape of Lynda Baron, and a tour through Khan's life as it might have been, and we have pretty much a comic re-run of Frank Capra's 1946 classic in miniature.
And in colour!
I've worked in the UK media industry for over 18 years as a multimedia producer. I have covered all the major TV events, filming interviews and awards.
Get the latest updates, reviews and unmissable series to watch and more!
Thank you for signing up to Whattowatch. You will receive a verification email shortly.
There was a problem. Please refresh the page and try again.