Miranda Hart: 'I get a fake Christmas tree and do not care what people think about that'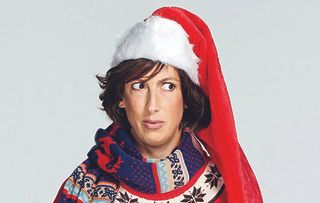 (Image credit: Jay Brooks)
Comedy queen Miranda Hart chats to us about her funny Christmas experiences ahead of her C4 show, Miranda Does Christmas
Miranda Hart and a host of celebrity friends will be spreading festive cheer and showing us how to make Christmas as much fun as it used to be in a one-off seasonal special that will be full of surprises.
We caught up with Miranda Hart to talk about her festive memories, the pitfalls of office Christmas parties, how to go carol singing and her C4 Christmas show - Miranda Does Christmas
WOTV: What can you tell us about the show?
Miranda Hart: "The point of the show is to help make Christmas fun again! Over the last 30 years its been building into this intense thing that starts earlier and earlier and is so stressful. I see people running around like loons in mid-November looking for presents and I think; 'what are we all doing? This is crazy!' So we're looking at the minutiae of Christmas and hopefully the conclusion will be 'what a lot of fuss and nonsense, isn't it all about love and having fun?'"
WOTV: What are your Christmas pet hates?
MH: "One of them is the comparing people do, the underlying competitive spirit that goes with it. 'Oh their wreath is marvellous and not fake, our tree is real, she managed to make her own mulled wine…' Just do your own Christmas as you want to do it and don't conform to what we're supposed to do or what we're supposed to be!"
WOTV: What's the most stressful Christmas you've ever had?
MH: "Well I have a stress free Christmas, because I defy conventions and do exactly what I want! I get a fake Christmas tree and not care what people think about that. I don't do Christmas cards anymore and when I do get them, I often can't even see who they're from! Or you get one from 'Trevor and Irene' and you don't even know who Trevor and Irene are! What's the point? So I just let go of all that. Christmas for me is about making winter more fun, watching lovely films, being kind, seeing friends."
[check out more Christmas TV features]
WOTV: Do you cook on Christmas Day?
MH: "I'm fine if some establishment has pre-cooked my meal and all I have to put it in the oven! That's fine! Anything to reduce the stress. I'm not really interested in cooking, so why should I suddenly stress about it on Christmas day? I just like to do what I do on a normal Sunday and have a nice day."
WOTV: What's your perfect Christmas Day?
MH: "Being in pyjamas all day and not going outside and grazing all day on items that shouldn't be wrapped in pastry, but are. All food groups are wrapped in pastry at this time of year, which is marvellous. Then I like to watch back-to-back musicals, preferably in front of a roaring fire!"
WOTV: What's the worst Christmas present you've ever received?
MH: "My parents were never particularly on trend and I never got the best Christmas present when I was young. One year I was desperate to go back to school in January with a cool present and I'd asked specifically for a ghetto blaster and I was getting excited that I was getting one. But on Christmas day I got a Dictaphone! You could put a cassette on it and play something very quietly, but it wasn't cool. Another year I got a pair of wellington boots, very useful, but you can't bring them to school. So I used to dread presents."
WOTV: Did you enjoy Christmas when you were young?
MH: "Yes I have really good memories of family Christmases when I was young. My mother was very particular about the tree and we always had a lot of fun with that. My mum would only use two colours, red and silver, so me and my sister would love to sneak another blue bauble on there to see what happened. That was a lot of fun. Me my sister and our two cousins were very silly and lots of practical jokes!'
WOTV: Do you like to go carol singing?
MH: "Last year me and some friends did a few sessions around a friend's piano and worked up our courage to go carol singing down our street in Hammersmith. We were terrible and hardly anyone opened their door to us, but we had a lot of fun."
WOTV: Are you a fan of office Christmas parties?
MH: "I worked in offices for nearly ten years, but I would always slightly dread them for many reasons. It's a bit like being at school and bumping into your teacher down the shops, it's a bit cringey. I felt like that about my bosses. All of a sudden you're forced to pretend you're friends with people you don't really like and then if you're not careful, you end up getting drunk. If that happens, stay away from the photocopier at all costs!"
WOTV: Do you like Christmas TV?
MH: "It's mostly musicals, like Singing In The Rain, these days. I always watch Morecambe and Wise at Christmas because I feel it would be wrong not to! They've inspired me and I was brought up with them and having got into comedy, I've realised how difficult it is to maintain standards and they've did it for years. So it's a real tradition for me to put them on and thank them."
WOTV: How about Call The Midwife?
MH: "I will be sitting down to watch the Christmas special, because there's something so festive about it and I love to see how everyone's getting on."
WOTV: We love Chummy, is there any chance of her ever returning?
MH: "I miss Chummy too! I'm so lucky that I've been given so many opportunities and there's just no room for her at the moment."
Miranda Does Christmas airs on C4 on Wednesday 27th December at 9.00pm.
Get the What to Watch Newsletter
The latest updates, reviews and unmissable series to watch and more!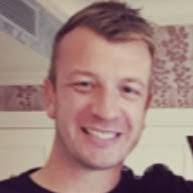 Feature writer for TV Times, What's On TV, TV & Satellite Week and whattowatch.com
Sean has been writing about all things telly for over 10 years and in that time he's been lucky enough to interview stars like Ian McKellen, Tom Hardy and Kate Winslet. His favourite shows are The Great British Bake-Off, People Just Do Nothing and Succession and in his spare time he enjoys drinking tea, doing crosswords and watching football.