'Aidan wants revenge against Adam' - Coronation Street star Shayne Ward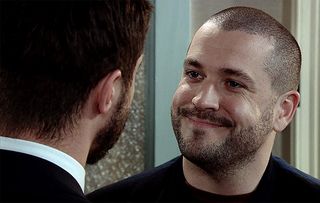 Aidan Connor's lost Eva Price and his business to Adam Barlow! Now he wants revenge. Could it involve Alya Nazir? Corrie's Shayne Ward reveals all to Soaplife
Aidan Connor has lost the life he thought he was going to have with Eva Price and his business and he blames Adam Barlow for everything. But his revenge leads him to Alya Nazir…
What's the story?
Cheater Aidan Connor (Shayne Ward) thought that he could make everything right by telling Eva Price the truth before their wedding. He never expected in his wildest dreams that she was lying about the baby and plotting with Adam Barlow to clear out the factory because she already knew about his affair with Maria Connor! So, when he comes face to face with Adam, he simply can't control his feelings.
What's happening in Coronation Street? See the latest storylines
Shayne Ward reveals all to Soaplife
Soaplife: What happens with Aidan and Adam?
Shayne Ward: "Aidan snaps at Adam because he can see he's lost the woman he loves to the guy he despises. Cunning Adam wanted the factory from the get-go, so he started a vendetta and now Aidan's devastated he's lost Eva to him, too."
S: Does Aidan blame himself?
SW: "Well, it is his own fault, but he doesn't like that Adam is goading him. Aidan runs at Adam because he's lost everything now. He's also trying to figure out how he'll convince people that Adam cleared the factory because there's no evidence."
S: Has Adam underestimated Aidan?
SW: "Aidan won't let this lie, regardless of what happens to the factory. He's got to get some sort of revenge on Adam, not just for his business but for the workers."
S: What happens next?
SW: "Johnny Connor intervenes and gives son Aidan a pep talk, which makes him think about starting a business again. In fact, he immediately thinks of Alya Nazir. She's great with designs and he's eager to get things back on track, but he messes it up."
S: How?
SW: "In his eagerness to get things back on track and prove to people that he can do this, he makes a pass at Alya! She's beautiful and he gets lost in the moment."
S: What advice would you give to Aidan if he was your friend?
SW: "I'd do what Johnny does and give him a pep talk. I'd tell him he's better than this. Who knows whether he'll get his girl back and manage to start again? But I'd encourage him to get his business back first – and get people back in their jobs."
Coronation Street, ITV
Get the What to Watch Newsletter
The latest updates, reviews and unmissable series to watch and more!