An affair to forget in Coronation Street!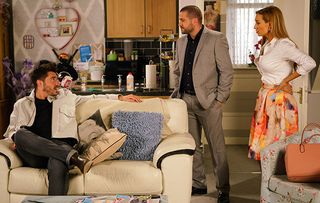 Eva intervenes when Adam threatens to reveal Aidan's affair next week! Why?
When Eva secretly found out about Aidan and Maria's affair, she vowed vengeance on him and decided to stay silent about his cheating ways in Coronation Street. Since then, she's convinced Aidan that she's pregnant, after a first at-home test proved positive while the second was negative.
So Aidan is going nowhere, thinking he has a baby on the way, while fuming Eva quietly plots to bleed him and his business dry... But what will happen when blackmailing Adam barges in, knowing full well what Aidan's been up to with Maria? Will Eva's plan be finished before it's even started?
Elsewhere, lovebirds Brian and Cathy take their relationship a stage further, Phelan is mad at Seb, David and Shona join forces to help Bethany's plight and Craig makes a decision...
When Adam rolls up demanding money over the photo evidence he has of Aidan's affair with Maria, is the cheating cad about to admit all?
When Adam rolls up demanding money over the photo evidence he has of Aidan's affair with Maria, is the cheating cad about to admit all?
When blackmailing Adam has no luck in getting Aidan to part with his cash, he demands the love rat tells Eva EXACTLY what's been going on!
Eva's plan of revenge will be ruined if Adam spills the beans on Aidan's affair, so she manages to to get him to stay quiet, telling him she needs to put her 'pregnancy' first...
Eva's next stage of her plan to ruin Aidan, is to get behind a desk at Underworld. But how will the others take it when Aidan announces the arrival of new employee Eva?
At the Rovers, Toyah confides in Leanne that she might be pregnant at last and later hugs and congratulates a guilt-ridden Eva…
Loved-up Brian tells an admiring Cathy about his additional duties as litter enforcement officer, hence the helping hand of a large megaphone…
But with intimidating Phelan being his first offender after discarding a sweet wrapper on the cobbles, will Brian regret his extra responsibilities?!
Clearly in a foul mood, Phelan takes it out on employee Seb and fires him! But what has the lad done?
Meanwhile, Nicola calls round to Eileen's to ask if Phelan will do a DNA test to find out once and for all if he's her real father... or not!
As Pat willingly agrees to the DNA test, he hands the swab to Nicola. She promises that she'll be in touch with the results...
David and Shona team up to try to convince another of Nathan's victims, Lara, to grass him up to the police so he'll finally get his comeuppance. Will she agree?
Back at No.8, Craig encourages Bethany to tell all to the police about Neil and his involvement with nasty Nathan. But will Craig feel the wrath of the dodgy copper?
Craig tells Neil that he's going to stay in the force but wants a new mentor. How will the sinister officer react and will he get his just deserts? Watch Coronation Street on ITV from Monday, July 17
Get the latest updates, reviews and unmissable series to watch and more!
Thank you for signing up to Whattowatch. You will receive a verification email shortly.
There was a problem. Please refresh the page and try again.