Love rat Aidan looks worried in Corrie – and so he should! Maria's getting out of prison!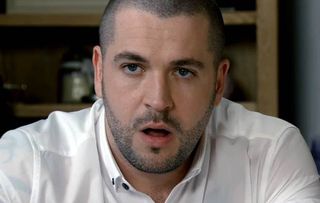 Maria Connor is getting an early release from prison and her secret lover Aidan Connor is panicking in Corrie…
Corrie's gay magnet Maria Connor (Samia Longchambon) got 12 months last Christmas for marrying her homosexual friend, Pablo Duarte, so he could stay in Britain.
Her secret lover Aidan Connor (her late husband's cousin) thought he could breathe easy for a while, with Maria well away from his fiancée Eva Price (Catherine Tyldesley).
But Maria's brother Kirk Sutherland revealed on Friday night that she's getting out early and Aidan heard him… and his panic was written all over his face.
Aidan (Shayne Ward) made a bad situation worse when he visited Maria earlier this year and offered her and son Liam a free holiday when she got out.
"Are you trying to buy my silence?" Maria asked, as he squirmed.
"I've been a good little girl so far. Let's see what happens next…"
And now he doesn't have to wait long to find out what she meant.
Maria gets out on Monday and Eva can't wait… She and Aidan have been looking after Maria's son, Liam and now they'll have their flat back to themselves.
"Babe, I am so stupidly excited for her getting back," Eva says at breakfast.
Meanwhile, he's choking on his toast at the thought of what Maria could say and do when she returns to the Street.
Eva notices Aidan doesn't look so happy, though…
"Now that Maria's back and taking Liam home we'll be smiling a lot more often," Eva says to him, with a cheeky wink.
But he clearly isn't so sure. Maria could make their lives miserable. Will she?
See what she does when she returns in Coronation Street, ITV, Monday, March 13.
https://youtu.be/j4q7GxcwShU
Thank you for signing up to Whattowatch. You will receive a verification email shortly.
There was a problem. Please refresh the page and try again.