Corrie's Bruno Langley: 'Todd knows he and Billy are the right people to care for Summer'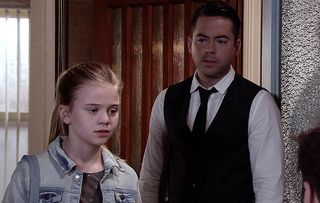 Todd Grimshaw makes some headway with young Summer Spellman in Coronation Street, reveals actor Bruno Langley
While Todd Grimshaw undoubtedly has a nasty side, he can also be a nice guy, especially when it comes to kids… and Billy Mayhew's god-daughter, Summer Spellman, in particular.
"Todd's come full circle with Summer, especially after he hears her deliver the eulogy at her father's funeral," Bruno Langley told Soaplife. "He knows she's a very special kid and he genuinely feels that he and Billy are the right people to care for her, as her father wanted, although her homophobic gran, Geraldine, is dead against it."
How come Todd and Billy go to Drew's funeral after Geraldine banned them? "Todd manages to convince Billy [Daniel Brocklebank] by saying he should stand up for what he believes in. Summer's dad Drew made it very clear that after his death he wanted Todd but especially Billy to have a relationship with Summer. Todd makes Billy see the light."
How does he feel when Summer delivers the eulogy? "Proud. Anyone who hears a little girl stand up and deliver a eulogy about her father is bound to be heartbroken. But he is also so proud of her."
How do Todd and Billy feel when Summer is so dismissive of them? "Things get misconstrued. When Summer [Matilda Freeman] says she doesn't want to live with them, it's very disheartening because they had made up their minds to raise her together."
Meanwhile, Todd's now working with Adam Barlow in his lawyer's practice… "Yes. He was a lawyer's clerk in London so he knows about all this kind of stuff. Why not use what he knows to make a bit more money? Adam [Sam Robertson] is a dubious character, but Todd knows that in order to raise this child and get his own place with Billy he needs money."
Does Todd trust Adam? "He doesn't even trust himself most of the time, so why would he trust anyone else, especially Adam? Billy's also wary of him working with Adam and makes Todd promise he'll only do 'above board' stuff."
How does Summer become Todd's first client? "It's something to do with how her dad died. Todd sees he can use this opportunity to make her realise that he and Billy are the best people to have her – like her dad wanted. He listens to her and makes some headway as she starts telling him how she really feels."
Would Todd be a good parent? "He'd make a good father to Summer and he wouldn't let anything bad happen to her. It won't be plain sailing, though."
Coronation Street, ITV
Get the What to Watch Newsletter
The latest updates, reviews and unmissable series to watch and more!