'Carla and Peter just love each other!' says Corrie star Alison King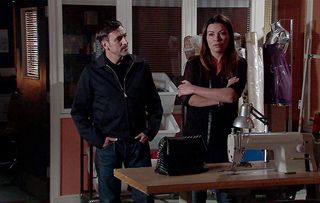 Coronation Street actress Alison King tells Soaplife how Carla Connor ends up back in bed with ex-husband Peter Barlow – financially, anyway, for now!
Underworld has the name 'Connor' running through it like letters through a stick of rock, so when Alya offers to sell the factory back to Carla, she wants it – whatever the cost.
What's the story?
"Carla has trouble raising the amount of cash Alya's asking for but she's playing for time in the hope that something will come through – and that something turns out to be ex-husband Peter, who offers to go into partnership with her," actress Alison King tells Soaplife.
What's happening in Coronation Street? See the latest soap storylines
Alison King's chat with Soaplife about Carla Connor's feelings for her ex-husband and the Coronation Street factory…
Soaplife: Does Carla need the focus of the factory?
Alison King: "Yes – it's her thing. As soon as she found out Alya had been left it she fought for it. But she also needed something to take her mind off losing Aidan. The factory is like her self-medication."
S: How does she feel about Peter investing in the factory?
AK: "She's worried about it and also angry. How dare he try and 'get into bed with her' financially. But she does protest too much really. It's like that thing of hitting a boy because you really like him. That's how she is with Peter."
S: So, she still has feelings for him?
AK: "I think that, essentially, they just love each other. Even when they say they hate each other they actually know that they don't. They have this chemistry that neither of them can do anything about because they are quite similar."
S: Do you think Carla can keep it all business-like?
AK: "I think she will want to try and do that but she is a swan on top of the water with her feet going like crazy underneath. She knows it is not ideal going into business with Peter, she knows it may be potentially disastrous because she knows her heart is flipping but she needs him - and she hates that she does."
S: Do you think they are good together?
AK: "I think they are better apart but I like working with Chris (Gascoyne) so much that I don't want that to be the case. I think they are great as an on-off relationship, that 'will they won't they?' thing…"
S: Do you love being part of the Connor family?
AK: "Yes, I do. They have got their fingers in so many pies now it is like 'Connornation Street'. There's Kate who is impulsive and caring, Jenny who thinks she rules the roost, Michelle who is like her real sister and, Carla's dad, Johnny, who is now acting like the father she needs."
Coronation Street continues Mondays, Wednesdays and Fridays at 7:30pm on ITV
Get the latest updates, reviews and unmissable series to watch and more!
Thank you for signing up to Whattowatch. You will receive a verification email shortly.
There was a problem. Please refresh the page and try again.