Catherine Tyldesley on Eva Price birth scene: It took eight hours – I felt like I'd actually given birth!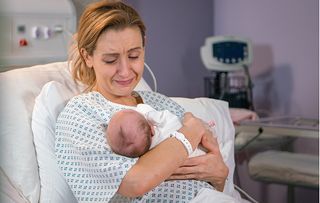 (Image credit: Andrew Boyce)
But the star admits it wasn't quite as tough as the real thing
Coronation Street star Catherine Tyldesley has spoken about filming her character Eva Price's labour and birth scenes for the soap, and admitted she found the process "exhausting."
In scenes to be screened next week, secretly pregnant Eva - who has agreed to hand over her baby to Toyah Battersby to raise as her own – starts having contractions whilst locked in the bathroom of the cottage she is hiding out at in Lymm.
Toyah will then arrive in the nick of time and, after breaking down the door, will deliver Eva's baby herself – a little girl, whom she and partner Peter Barlow name Susie.
Reveals Catherine, who in real life is mum to three year old son Alfie: "It took eight hours to film the birth – but I'd have definitely taken eight hours over thirty eight any day of the week!
"Oh my God, it was still exhausting; I actually felt like I'd given birth. I got home and my husband Tom was like: 'Oh my God, what have you been doing?' I was a bit of a mess, but hopefully it'll look good, and that's the main thing."
Catherine adds that her experience of giving birth off-screen helped "massively" with filming Eva's labour and birth, and reveals that she liaised with the Corrie director to make sure the scenes looked as realistic as possible.
"You often see a lot of births on television where the woman's laid down the whole time," she tells us. "Me and the director had a chat and I said I didn't want Eva laying down all the time, because for myself and other people I've spoken to through my research, a lot of the time you can't keep still when you're in labour. You're very agitated - one minute you're on all fours; the next you're squatting.
"So I wanted to bring that realism to it, and hopefully that comes across."
Alison Slade has over 20 years of experience as a TV journalist and has spent the vast majority of that time as Soap Editor of TV Times magazine.
She is passionate about the ability of soaps to change the world by presenting important, issue-based stories about real people in a relatable way.
There are few soap actors that she hasn't interviewed over the years, and her expertise in the genre means she has been called upon as a judge numerous times for The British Soap Awards and the BAFTA TV Awards.
When she is not writing about soaps, watching soaps, or interviewing people who are in soaps, she loves going to the theatre, taking a long walk or pottering about at home, obsessing over Farrow and Ball paint.
Thank you for signing up to Whattowatch. You will receive a verification email shortly.
There was a problem. Please refresh the page and try again.