The murder mystery that has put former Corrie star Charlie Condou back on TV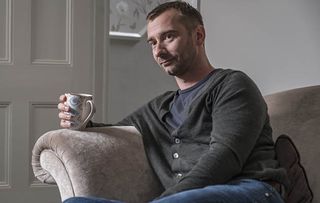 Former Corrie star Charlie Condou discusses his role in the second series of ITV's acclaimed drama Unforgotten – and playing a witch hunter!
It's hard to believe but it's more than two years since Charlie Condou left Corrie and Marcus Dent behind. He chats to Soaplife about his role in ITV's thriller Unforgotten and the other roles he's taken on since he departed Weatherfield...
What's your role in Unforgotten, Charlie? "My character's called Simon Osborne, and he and his barrister husband Colin [Mark Bonnar] are in the process of adopting a seven-year-old girl. In this second series, a man's body has been found in a suitcase in the silt of the River Lea. It's clearly been there for some time and it appears Colin and several others may have something to do with the murder."
What attracted you to the part? "I watched the first series and thought it was wonderful, and when the script came through for this one, I thought it was even better, if that's possible."
How long is it since you left Corrie? "Two-and-a-half years. I'd been there for a few years as Marcus Dent and it was hard to leave, but I had a young family in London and I was spending so much time in Manchester."
Who were your closest Corrie mates? "Probably Sue Cleaver [who plays Eileen Phelan], Ryan Thomas [who played her son, Jason] and Alison King [Carla Connor].
Apart from Unforgotten, what have you been up to since you left the Street? "Most recently, I was touring the UK with The Rocky Horror Show and it was fantastic. I played the Narrator, which was amazing fun."
Did you enjoy touring? "Actually, it wasn't like a full-on theatrical tour because I did weeks here and there, and also a lot of the performances were within commutable distance of my home in London."
What's next for you? "I'm back in the theatre. I'm touring with Arthur Miller's The Crucible, which is about the Salem witch trials in America in the 17th Century. I play witch hunter Reverend John Hale, who arrives in the Massachusetts Bay colony during the witch trials in 1692. It couldn't be more different from Corrie's Marcus or Rocky Horror's Narrator."
Unforgotten continues on ITV, Thursday, February 9, 9pm.
Get the latest updates, reviews and unmissable series to watch and more!
Thank you for signing up to Whattowatch. You will receive a verification email shortly.
There was a problem. Please refresh the page and try again.