Coronation Street's Alan Halsall: 'Tyrone is disgusted to learn Maria's behind the texts'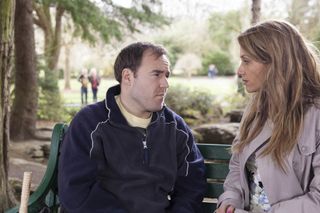 Coronation Street's Alan Halsall reveals to Soaplife how Tyrone's shocked and horrified when Maria declares her love for him... And then he finds out she's the terror texter!
Did Tyrone really have no idea that Maria had fallen for him again?
"Not really. He took the kiss as a silly mistake because Maria's been in such a bad place."
But he didn't even understand Fiz's concerns about Maria…
"He's been a bit irritated by Fiz's jealousy because she should know that he'd never cheat on her. Maybe he should have confided in Fiz about the Kirsty texts, but Tyrone feels Fiz's reaction has caused more harm than good. Maria's the only other person he could think of turning to."
Is he at all tempted when Maria tells him she loves him?
"Maria may have been his first love, but Fiz is the only woman for him. Maria is his friend - no more. Although this may not be the case when Tyrone discovers the truth about Maria masquerading as Kirsty."
How does he find out?
"He's at Maria's flat and he sees 'Fiz' flash up on her phone when it rings. He answers and it soon dawns on him Maria is behind the texts. It's very disturbing for Tyrone to think a trusted friend could cause so much fear and heartbreak for his family."
What does he say to Maria?
"He's furious and disgusted, and can't stand to be around her. Maybe he'll forgive her at some point, but it won't be for a while."
What now for Tyrone and Fiz?
"Tyrone has a lot of making up to do. He's hurt Fiz by dismissing her suspicions. They love each other, though, so hopefully they'll come through this."
Get the latest updates, reviews and unmissable series to watch and more!
Thank you for signing up to Whattowatch. You will receive a verification email shortly.
There was a problem. Please refresh the page and try again.