Coronation Street's Helen Worth: 'Gail's tangled up in a web of lies and can't see a way out'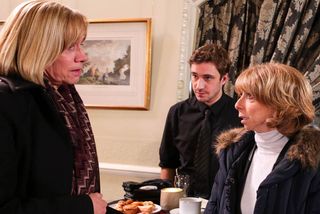 (Image credit: Mark Bruce)
Coronation Street (opens in new tab)'s Helen Worth tells Soaplife how Gail becomes even more trapped by her lies about Gavin…
Gail was already tormented about lying to Michael over the whole real Gavin/fake Gavin scenario. Now, with real Gavin dead, she doesn't know what to do next. "Gail feels completely tangled up in a web of lies and deceit and can't see a way out," says Helen (opens in new tab).
And things get even worse when she has to go to Gavin's funeral...
Why didn't Gail just tell Michael the truth about real Gavin?
"Because of his ill health. Michael [Les Dennis (opens in new tab)] has serious heart disease and the last thing he needs is a shock. Once he's fit and well, it will still be very upsetting to hear the truth, but at least it won't affect his health."
Is it hard to lie, though?
"Terribly difficult – the big web of lies keeps growing and growing. Gail's risking a slip-up every day. She's in an impossible situation."
So why does she go to Gavin's funeral?
"Michael's aunt comes round when Michael's not there in order to give him the news that his estranged son is dead. Gail tells her Michael is too ill to attend the funeral so she'll go in his place."
And she soon wishes she hadn't!
"Yes. Gail and Andy [Oliver Farnworth (opens in new tab)] have to pretend they don't know each other, as Gavin's family know Andy as Gavin's friend, of course. Gail's incredibly nervous - not least because she's depriving Michael of the chance to say goodbye to his real son. She tries to leave immediately after the service, but Gavin's family want to talk to her."
No!
"It's her worst nightmare. And Michael's ex-wife [pictured with Gail and Andy] says she wants to see him, to tell him about the years he missed with Gavin. Gail has to think on her feet. Again, she uses Michael's illness as an excuse."
Then Bethany turns up out the blue, doesn't she?
"Gail loves Bethany [Lucy Fallon (opens in new tab)] but she knows she's playing a game with them all. With everything else that's going on in her life she really hasn't got the patience to deal with Bethany's dramas right now!"
Coronation Street (opens in new tab), ITV.
Get the latest updates, reviews and unmissable series to watch and more!
Thank you for signing up to Whattowatch. You will receive a verification email shortly.
There was a problem. Please refresh the page and try again.