Coronation Street's Marc Baylis reveals Rob is back and he wants vengeance!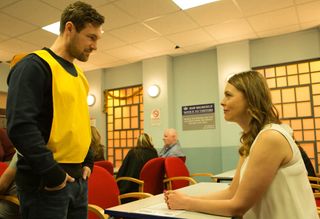 (Image credit: Joseph Scanlon)
Jailed murderer Rob Donovan is out for revenge on Coronation Street, as Marc Baylis (opens in new tab) explains to Soaplife...
Why does Rob think he deserves some form of revenge?
"Tracy [Kate Ford (opens in new tab)] was the love of his life and he envisaged, on their wedding day, they'd live happily after. That didn't happen after his sister Carla told the police about him, then Tracy, as he sees it, went on to betray him."
He's heard Tracy is back with Robert (Julian Kay), too…
"Yes and it's a kick in the teeth for him. He thinks, 'Well, I'll mess that one up for you…'"
But, first, Rob gets in touch with Johnny Connor, doesn't he?
"Yes, he sees a photo of Johnny [Richard Hawley (opens in new tab)] in the paper and he discovers he's now involved in Underworld. Rob has information about Johnny that he wants to use to his advantage."
What is this information?
"It's secret stuff Johnny will really not want his son and daughter to know about. Rob intends to blackmail Johnny about this, so he'll have some money when he leaves prison. Then he decides to send Tracy a visiting order."
Does it have the desired effect?
"He's able to reel Tracy in. She visits him and, as soon as they're in each other's presence for a certain amount of time, it's almost as if nothing has ever changed and he still has that power over her. He knows how much she loved him – and still does – and he's going to use that as much as he possibly can."
Can we expect any scenes with Carla (Alison King (opens in new tab))?
"Yes, although it's not as straightforward for Rob as it was getting Tracy and Johnny in to visit him. But, yes, they do eventually have a bit of a reunion."
Coronation Street (opens in new tab), ITV.
Thank you for signing up to Whattowatch. You will receive a verification email shortly.
There was a problem. Please refresh the page and try again.