Coronation Street shock: Callum is alive! Better watch out, Sarah!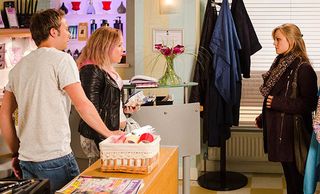 (Image credit: Mark Bruce)
Well, Callum Logan is alive according to his little wannabe gangster moll Gemma (Dolly-Rose Campbell (opens in new tab)) in Friday night's (March 11) episode.
No wonder David (Jack P Shepherd (opens in new tab)), Kylie and Sarah looked confused. As far as they're concerned, Kylie's ex, Callum, father of Max, is rotting in the drain under Gail's granny flat.
But Gemma – or Gemini, as she's now calling herself – reckons Callum (Sean Ward (opens in new tab)) will be "very interested" to hear that Sarah's about to have his baby.
She says she won't tell him, though, if they let her have a job in Audrey's salon.
Sarah gets a shock when Gemma says she'll tell Callum about the baby
"Are you trying to blackmail us?" David asked.
"I don't want to, but I need this job," Gemma explained, sweetly.
"No chance," David stated, flatly.
So Gemma got out her phone.
"What are you doing?" Kylie asked her.
"I'm calling Callum," Gemma replied.
Well, they had no answer to that, unless Kylie wanted to say: "You can't because he's dead. I know, I killed him."
And Kylie definitely didn't want to say that.
David and Kylie are convinced Callum is buried under the floor of Gail's granny flat
"Either you let me stay or I tell him everything," Gemma continued.
"All right then, go on, ring him," David told her.
And she did! But she said the call went to voicemail.
Kylie, David and Sarah (Tina O'Brien (opens in new tab)) don't believe Gemma but think it will be useful to have her around, saying Callum's alive. So she gets her job.
But…what if Callum really is alive?
We've just seen EastEnders' Claudette Hubbard (Ellen Thomas (opens in new tab)) claw her way out of the makeshift grave her son Vincent (Richard Blackwood (opens in new tab)) made for her in the floor of his cellar conversion, when he thought she was dead.
What if Callum got out of that drain before Gary (Mikey North (opens in new tab)) cemented over it?
He could have… and he could have gone into hiding. Remember, drug dealer Callum owed a lot of money to some very nasty people and was running scared.
If Callum's alive and finds out Sarah's about to have his baby… Well, that might just bring him out of hiding – and bring a whole lot more terror to the Platt family.
Callum terrorised Sarah once – will he return to do it again?
We know Kylie actress Paula Lane (opens in new tab) is leaving Corrie… Will Callum come back and get his revenge by killing Kylie – and taking their son, Max, along with Sarah's baby?
Coronation Street (opens in new tab) continues on ITV, Monday, March 14, 7.30pm.
Thank you for signing up to Whattowatch. You will receive a verification email shortly.
There was a problem. Please refresh the page and try again.