Corrie heartbreak! 'The wedding's off and Nick feels totally broken,' reveals Ben Price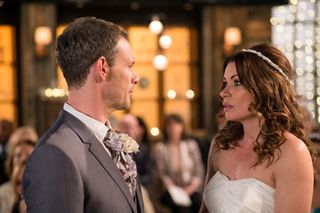 (Image credit: Joseph Scanlon)
Coronation Street's Ben Price (opens in new tab) tells Soaplife that Nick's in bits when he realises there's no way his wedding to Carla can go ahead…
Why is the wedding off?
"There is a massive bombshell at the wedding and, although Nick starts the day thinking he and Carla [Alison King (opens in new tab)] have sorted everything out and that they'll live happily ever after, that so doesn't happen."
Is this bombshell that we think it is?
"Could be one of many. Have a think... Carla slept with the chef, she made Nick sell the bistro, she used her own money to try to pay Tracy off… They're all pretty big bombshells."
And Nick can't forgive her?
"I think that if he'd found out early enough he might have been able to live with what Carla's done. He knows the kind of woman she is – she's feisty, complicated, she drinks and gets pushed into a corner. It's not black and white …"
What do you mean?
"Well it's not like, 'Oh my God, she slept with the chef!' What happens at the wedding, how it happens and Nick's reaction is not necessarily as obvious as the audience may expect."
You're talking in riddles a bit!
"It's ultimately about truth – that is what Nick is concerned with. He says to Carla, 'Where's the truth? If you have to be pushed into a situation where you're forced to tell me, where is the honesty? You have lost the truth. You are lying.' He tells her that if you love someone, you have to be truthful. But Tracy [Kate Ford (opens in new tab)] is very good at manipulation and Carla is very scared."
Could Nick react violently at the wedding?
"No – it's more about heartbreak than anger. Nick feels totally broken. He's going to be in a bad way, feeling he's lost everything – apart from his family, that is."
Will ex-wife Leanne help Nick over his heartbreak?
"I think Leanne is still the love of Nick's life, but we'll have to wait and see about that. Certainly I'd love to work closely again with Jane Danson [Leanne] (opens in new tab)."
Coronation Street (opens in new tab), ITV
Get the What to Watch Newsletter
The latest updates, reviews and unmissable series to watch and more!