Corrie's Chris Gascoyne reveals his top 5 Peter moments… Watch them all here (VIDEO)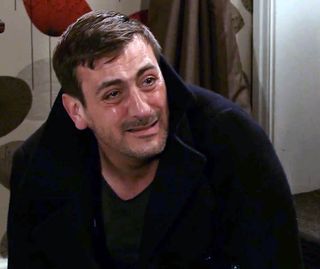 Friday night's moving scenes on Coronation Street saw Peter Barlow say goodbye to son Simon and estranged wife Carla (Alison King).
How did it all go so wrong for Peter?
Here, Chris Gascoyne, who played hopeless drunk Peter, picks his top 5 Peter episodes - and they all go a long way to revealing just how Peter had everything - and lost it.
First, the night Peter returned to his flat drunk, fell asleep with a cigarette in his hand, and nearly burnt himself and Simon to death… "It was quite high up in Peter's alcohol career," Chris remembers…
http://youtube.com/v/G6PEfuy8l0A
Also right up there in Peter's life as an alcoholic, is the night he rocked up at the opening of the bar he opened with then-wife Leanne (Jane Danson)… "It shows how much Leanne suffered because of him. He wasn't supposed to be drinking but he got smashed through the episode," Chris remembers. "He doesn't realise how much he's trashed the opening night. It was comic on the surface but underneath it was tragic."
http://youtube.com/v/kqhhQ45oadE
There was a whole episode devoted to Peter, too… "It gave a deeper insight into to him," Chris explains. "He falls off the wagon [again] when his AA sponsor dies."
http://youtube.com/v/lCFqb_xuVwI
Another of Chris' favourite Peter moments was also to do with Alcoholics Anonymous, when the whole Barlow family went to a meeting with him. "I dedicate it to Maggie Jones [who died in 2009], who played Blanche," Chris says. "It's her scene really. She was brilliant."
http://youtube.com/v/VNfcSO8ZQq0
And, finally, there's the undoing of Peter and Carla. "This sums up their relationship," says Chris. "Peter comes home drunk, having missed their baby scan. When Carla was looking at their baby for the very first time, he was out drinking."
"If me and this baby aren't enough for you we have no chance!" Carla shouts at Peter. "Not one chance."
And they didn't.
http://youtube.com/v/U35M4GWGrns
Coronation Street continues on ITV on Monday, November 17, 7.30pm.
Get the What to Watch Newsletter
The latest updates, reviews and unmissable series to watch and more!