Corrie's Sean Ward: 'Jack's my nemesis on screen, but I can't speak highly enough of him'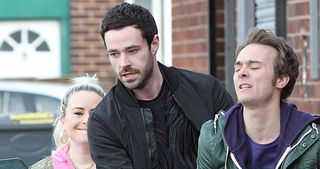 (Image credit: Eamonn and James Clarke/EMPICS E)
Coronation Street star Sean Ward talks about his first year on the long-running soap, his mates on set and the role he'd really like to play one day... 007.
Tall, dark and handsome with a bad-boy edge, Sean Ward is so hot he practically sets the screen alight. Whenever his Corrie character Callum appears, female hearts beat a little faster – just the criteria required for an iconic sex symbol like… James Bond.
"Funny you should say that," Sean tells Soaplife. "I'd love to play 007 one day – which actor wouldn't? For now, though, I'm more than happy playing Callum in Corrie. I've waited a long time for this opportunity and I'm not going to blow it."
You'll still be around when Paula (Lane, who plays Kylie) returns after maternity leave?
"Yes – and that's amazing. I came in as Paula was leaving and will be here when she comes back. I love Paula. She helped me so much when I first started – she went through everything with me. I said to her, 'Thank God you got pregnant when you did because it means the part of Callum was created'. I've not met her husband, but I love him, too!"
Is it true you'd been working in a Manchester bar for two years when you got this job?
"I'd left a little while before to film Our Girl with [EastEnders star] Lacey Turner but, yeah, I did work in a bar for a couple of years. My agent had retired from the business to bring up her child and I didn't bother getting another agent. I was too nervous about putting myself out there and getting knocked back."
And then your luck changed…
"My mum kept going on at me to get a new agent, but I threw myself into my bar work instead – ironically the bar's called Almost Famous. But then I got a call about Our Girl and had to act as my own agent. I didn't get the original part I went up for, but was offered another. Then I got Corrie and I can't believe how lucky I am."
Have you auditioned for any other soap roles?
"Yeah – I was up for the role of Brad in Emmerdale, the guy who drugged Finn Barton and left him for dead. Also, I auditioned for one of the Roscoes in Hollyoaks. I tend to do auditions and then forget all about them – it's best to think you won't get the role. When you think you will, you usually don't!"
Who do you hang out with on Coronation Street?
"Mainly the other new people like Dan Brocklebank [Billy], Oliver Farnworth [Andy] and Qasim Akhtar [Zeedan], but also Jack P Shepherd, who plays David. He may be my nemesis on screen, but I can't speak highly enough of him. He works so hard and is an incredible, underrated actor – I just watch Jack and learn."
What do you like doing when you're not working?
"My main hobby is discovering new music. I spend hours searching the internet. I set up a production company about two years ago with four other actors. It's called Northern Lads and we're just starting to make a little bit of money."
What does Northern Lads do exactly?
"We started out by making a video for a mate's band and that's still kind of what we do - we try to involve underprivileged kids when we can. We also put together show reels. I write, produce and direct. The fantastic actor Idris Elba [who starred in the BBC drama Luther] directed a video for us recently."
Really? How come?
"I was DJ-ing at the London launch of a single made by a young Manchester band called Last Party. Idris Elba was there and went up to the singer afterwards to say he wanted to direct the video of the single. The singer, Liam, who's a typical cocky Manchester lad, replied, 'All right but you'd better sort it out with Northern Lads – they're the production company making the video'. He came over, had a chat and ended up directing the video. How cool is that?"
Coronation Street, ITV.
Get the latest updates, reviews and unmissable series to watch and more!
Thank you for signing up to Whattowatch. You will receive a verification email shortly.
There was a problem. Please refresh the page and try again.