Corrie's Tristan Gemmill: Robert 'freaks out' when Tracy confesses about the fire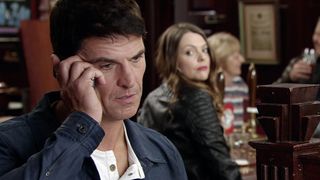 Robert finds out Tracy started the fire at Carla's flat, Coronation Street's Tristan Gemmill reveals to Soaplife. Can he still be with someone who's deceived someone else into thinking they've killed people?
How does Robert discover the truth?
"He sees her being very sympathetic towards a drunk Carla at Maddie's memorial and thinks that's very out of character. The penny begins to drop that maybe she had something to do with the fire. He keeps asking Tracy about it, saying so long as she tells him the truth, he'll support her, but there are to be no more lies.
"Tracy has no choice but to tell Robert the truth. He forces her hand, really."
What exactly does she say?
"That she was in the flat and she left a candle burning, but there's a grey area when he asks her why she was there in the first place. Robert wants to know if she wanted to hurt Carla [Alison King]. Tracy says no, but the viewers know she clearly contemplated it. Robert has his doubts, but if he's to make a go of their relationship he has to believe her."
Do Robert's feelings change?
"That's an interesting one. He is appalled. A lot has gone on in the last 10 years that he doesn't know about. This adds to that and it freaks him out a bit. He'll certainly never be able to forget what Tracy [Kate Ford] has told him, but maybe he thinks he can save her from herself."
So he'll stand by her?
"I think it will take him a while to decide if they have a future. It will definitely influence the course of their relationship."
Does he want Tracy to tell Carla the truth?
"Yes. The way he sees it, Carla's going through hell and Tracy could end her suffering."
Can you give us any hints about what happens next?
"It looks like the fire situation is resolved, but you'll have to wait and see if Robert and Tracy are still together after the next few turbulent weeks."
Coronation Street, ITV.
Get the What to Watch Newsletter
The latest updates, reviews and unmissable series to watch and more!