Corrie's Alan: Tyrone mightn't survive if Fiz dies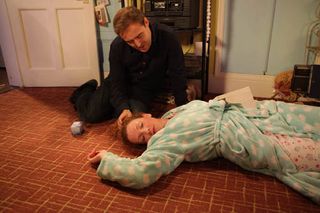 Coronation Street's Alan Halsall reveals to Soaplife the terrible truth about how Fiz - his lover - comes to be fighting for her life on New Year's Eve - and how it's all Tyrone's fault! Is Tyrone happy about Fiz being his lover? "It just feels really special to him to have finally found someone who loves and understands him; this has cemented their relationship." Isn't he worried that Kirsty will find out? "He's terrified, that's his worst nightmare. He's totally stressed out by it when Tina sees him kissing Fiz as he thinks she'll tell Kirsty. He can't let that happen as he would lose Ruby." So how does he end up hurting Fiz? "She asks him to fix her boiler and he thinks he can because he fixes cars. But of course he can't. He's not qualified at all!" And it goes horribly wrong... "Fiz and Ty have planned to meet up for a secret New Year's Eve lunch, but she doesn't show up and she doesn't phone. Tyrone's really worried; he doesn't think anything would stop her from meeting him. He goes to her house and finds her collapsed." She's rushed to hospital and the doctor says she has carbon monoxide poisoning - possibly from a dodgy boiler... "Tyrone is is absolutely devastated. Fiz might die and it would be his fault. But he also knows that if he comes clean about messing with the boiler then Kirsty will know he was at her house and the whole affair will be exposed. He confides in Tommy, but doesn't come clean to anyone else." Does Tyrone love Fiz? "He's totally in love with her - they belong together." So what if she dies? "I'm not sure Tyrone would have anything to go on living for.."
Get the latest updates, reviews and unmissable series to watch and more!
Thank you for signing up to Whattowatch. You will receive a verification email shortly.
There was a problem. Please refresh the page and try again.