Corrie's Sue Cleaver: 'Eileen sabotages herself. She's not OK being happy'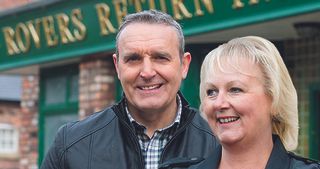 Has Coronation Street's Eileen Grimshaw, finally found 'The One' in lorry driver, Adrian Mortimer? TV Times asks Sue Cleaver and former Holby star Mark Moraghan if they can go the distance…
Sue Cleaver
How did you feel when you found out Eileen was getting a new fella? Did you think 'Here we go again!'?
"Yes, pretty much! With Eileen and relationships, you know it's never going to be plain sailing, is it? "
What does she need in a man that she hasn't found so far?
"That's a really hard one! He's got to match her in strength of character and he's got to be as straight as a die – she can't be doing with games."
Do you think she's looking for Mr Perfect?
"Yes I do actually, because she is quite a perfectionist. And there's something in her that makes her sabotage everything – it might look like it's other people doing the sabotaging, but it's her. She's not OK being happy."
What does she like about Adrian?
"Well, she had a lovely time on their first date. He had the same sense of humour, twinkly eyes, and made it very clear that she didn't have to pretend to be anything that she wasn't. She could just relax, and she relaxed so much, she had a pudding!"
Have you done your first screen kiss yet?
"I'm doing it later today! But does anyone want to see some 50-plus people snogging on the TV? I think it's a sport best kept for the 20-somethings. I'll let you know how it goes!"
Do you always eat mints before you film a kiss?
"It depends how well you know the person. Charles Dale [who played Dennis Stringer], who was here years ago, used to be really naughty. I remember having to snog him – this is disgusting – and he had a pear drop in his mouth, which he transferred into mine. So the next day I ate a load of garlic bread, to get him back!"
Can you see long-term potential with Eileen and Adrian?
"She really likes him, but she's said she wants to take things slowly. Things are complicated by this mystery man in Dubai, who comes up to Eileen's ideal of perfection. She's got one foot in each camp at the moment."
Tell us about 'Jeff'. Hasn't he offered to rub oil into her back?
"Funnily enough, I've just done a scene in the Grimshaws' house and I corpsed halfway through because I had the computer open and I actually read what was on the screen - it said 'I'll rub oil into yours if you rub it into mine!
"'Jeff' is living the dream in Dubai – it's everything that Eileen has never experienced in her life. Adrian's there in the flesh and he's wonderful, but there's a little pull to that part of the world. She tries to be grounded, but Todd's saying 'Don't shut off the opportunity; you never know what could happen.' She has no idea that he's made the whole thing up."
Is she in danger of losing Adrian if he finds out she's interested in someone else?
"He's really clear about what he wants at this stage of his life and yeah, he doesn't want to get edged into any games – he just wants it straight down the line."
Would you like Eileen and Adrian to stay together?
"It's always nice to explore that side of Eileen, as opposed to her juggling life and looking after everybody. But I wonder about the psychology of her. I don't know whether she would want to be looked after. She's quite a control freak.
"Being part of a couple certainly wouldn't alter the trials and tribulations she would face. I think it would be quite hard for her!"
Mark Moraghan
Welcome to Coronation Street! How is it going so far?
"Fantastic! Most actors would love to do Corrie. It is a show I have watched as a kid, so being a fan makes turning up on the first day a strange experience. Walking down the street and going in The Rovers was a bit weird to say the least."
Give us the lowdown on Adrian…
"He's a truck driver and an old-fashioned kind of guy. He has been unlucky in love in the past so has decided to try internet dating to get with the programme. I think he is divorced – I would assume so because when you get to my age, 52, you've probably been round the block a few times."
What qualities has he got that Eileen needs?
"She needs a reliable guy who is not going to mess her about; somebody with no skeletons in the cupboard, and he seems to be that way so far. She doesn't have much luck with men, but I think she brings some of that on herself, to be honest!"
What are his downsides?
"He is quite messy and he goes fell-walking a lot, which is something that Eileen might not take to. He is into the great outdoors, but she tends to only exercise her right arm, generally in The Rovers."
Was it love at first sight?
"I think so. He was impressed by her profile on the website and, when he met her, he saw that she had a great sense of humour. He is attracted to her wit and charm."
How do you feel about filming your first kiss?
"I'm not nervous, I am looking forward to it. I haven't kissed anyone on screen for a few years."
Have you got any funny kissing stories?
"None that I can repeat to you! To be courteous, I always clean my teeth and come armed with mints. I have worked with Sue for a while now and I know she looks after herself, so I have no worries there. But she's up for a laugh so I wouldn't be surprised if she had eaten loads of garlic!"
Does this romance have long-term potential?
"I don't see why not, but that is up to the storyliners. I think they could make a good couple."
Who will wear the trousers?
"Adrian is nobody's fool, so I think they will be fairly equal. She is feisty and he has that potential too. He is not a mug, so I think they will both hold their own and be equals."
Has Adrian found the internet dating thing daunting?
"Yeah, he does say to Eileen: 'I know we met the modern way, but I am an old fashioned guy. I think he has gone on the internet out of necessity as he is fed up with meeting the wrong kind of women. I have never done it myself, so I wouldn't know where to start and, thankfully, I don't have to. I still think, what is wrong going out and meeting people, face to face?"
Will Adrian be upset if he finds out about 'Jeff'?
"I don't think he would take it lying down. I don't know if he would stick around either, but who knows? We will have to wait and see what happens. Once Adrian gets into a relationship with Eileen, he doesn't see anybody else; he makes the commitment to her.
"If it is nothing more than correspondence, he can climb over that one, but if he thought she was double dating, that would be a different story."
Get the What to Watch Newsletter
The latest updates, reviews and unmissable series to watch and more!