Deirdre Barlow's ghost to haunt the Rovers Return?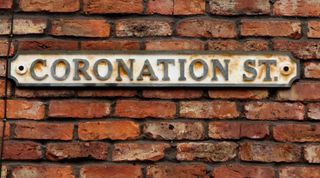 Coronation Street fans could be in for a shock as Deirdre Barlow's ghost is apparently set to make its presence felt at The Rovers Return.
The character will appear to haunt the local boozer according to The Sun, during a conversation between pub newlyweds Steve (Simon Gregson) and Michelle McDonald (Kym Marsh).
A Corrie insider is said to have revealed: "It will be a really spooky moment because it will seem like Deirdre is making her presence felt from beyond the grave."
Anne Kirkbride as Deirdre Barlow (ITV)
"Michelle and Steve are talking about her, sharing their memories and their shock at her death, when suddenly the doors swing open with a huge crash."
The stunt was apparently set up with a wind machine behind the pub door.
Anne Kirkbride, who played Deirdre for 42 years, died at the age of 60 in January and her character has been staying with a friend since then – but her street family will be told that Deirdre was found dead in a garden chair at her friend's house.
Chris Gascoyne will make a guest return as Peter Barlow (ITV)
Executive producer Stuart Blackburn said of the funeral scenes: "Yes, it's an upsetting experience for all of us for obvious reasons, but it's a really fitting tribute to Deirdre. Yes there are tears there, yes there are big issues, but there's real humour there. The lock-in in the back room of the Rovers is just great."
Stuart added that the funeral had not been filmed yet and that Peter Barlow (Chris Gascoyne) and Bev Unwin (Susie Blake) would be the only two characters making a comeback for the storyline.
Confirming that Anne's husband David Beckett had been consulted over scripts, when asked whether he would get a preview of the episodes Stuart said: "They will be made available to him."
A Corrie spokesperson said of the ghost rumour: "We do not comment on storylines."
Get the latest updates, reviews and unmissable series to watch and more!
Thank you for signing up to Whattowatch. You will receive a verification email shortly.
There was a problem. Please refresh the page and try again.