Fiz and Tyrone battle each other as Hope fights for life in Corrie!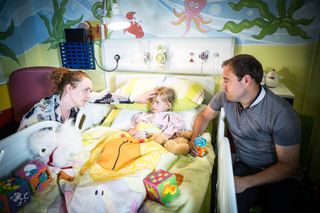 (Image credit: Joseph Scanlon)
A Coronation Street tragedy is brewing as Fiz fears for her daughter's life - and lashes out at Tyrone, Jennie McAlpine explains to Soaplife…
As Fiz hopes and prays that her little girl, Hope, gets a clean bill of health, it seems she's finding it hard to connect with her fiance, Tyrone.
"Fiz doesn't want to tell anybody about Hope's suspected cancer, especially before they have the diagnosis," says Jennie. "But Tyrone tells everyone about Hope, so immediately Fiz is really upset."
She even begins to question whether he cares as deeply for the child as she does, because Tyrone isn't Hope's biological dad…
Why does Tyrone make the news about Hope public?
"He doesn't do it intentionally. Aidan [Shayne Ward], Fiz's new boss, wants to know what she's up to when he sees her on the street after she's called in sick. Tyrone comes to Fiz's defence and tells Aidan not to have a go at Fiz, adding their daughter has cancer. Fiz is really upset by this."
But he clearly cares, so why does Fiz question that?
"It's a kind of defence mechanism. It's like she wants to shut everyone out. She doesn't mean it – she, Hope, Tyrone and his daughter Ruby are such a tight unit. Fiz cares so much about Ruby and she knows it's the same for Tyrone and Hope. It's just something she says through feeling so worried. It becomes the elephant in the room, though, and they're both upset by it."
Fiz even tells Tyrone (Alan Halsall) he'd react differently if it was Ruby who was sick… Does she mean it?
"No. It's part of the same row where she tells him that Hope isn't his daughter so why should he care? Fiz questions him about how he'd feel if it were Ruby who was unwell."
What does he say?
"Tyrone tells her he'd feel exactly the same as he does now - devastated. He's really hurt she could think or say this. Fiz wishes she could take it back because she doesn't mean it. But it's so hard to convince him of that."
Coronation Street, ITV
Get the latest updates, reviews and unmissable series to watch and more!
Thank you for signing up to Whattowatch. You will receive a verification email shortly.
There was a problem. Please refresh the page and try again.