'I'd love to be in Bates Motel and play a goodie for change,' says Corrie's Kate Ford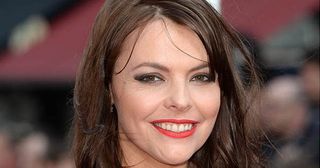 (Image credit: Jonathan Hordle/REX/Shutterstock)
Corrie actress Kate Ford talks to Soaplife about missing former co-star Alison King, and reveals her love of creepy thriller series Bates Motel
You'd never have known to see them at each other's throats on screen, but Corrie actresses Kate Ford and Alison King are the best of friends. And Kate is really missing Alison since she left the soap.
"Ali's a very, very close friend and I love her," says Kate. "I really miss seeing her every day. We have a great connection. Not that we're alike in everything – I drink red wine like Carla did, while Ali, unlike Carla, likes Prosecco."
Do you have any plans to leave, too? "I understood why Alison wanted to spread her wings, but I'm very happy to stay at Coronation Street at the moment. I'm still enjoying it. It's a good job and I have good work and good scripts. I don't want to lose that. I'm not a particularly ambitious person."
Tracy's one of TV's biggest bitches. What's the public's reaction to her? "It's a Marmite thing. People either love her or hate her. You get so many people saying Tracy should be punished, but you get some saying they love her and that she's so much fun. Tracy's such an extreme character, and I'm not like her. She doesn't suffer fools and she's completely self-absorbed. I don't have her confidence or psychopathic tendencies!"
Do you watch yourself on TV? "Not always. It depends on the lighting! If there's an episode I particularly enjoyed doing, or a scene I felt proud of, then I do. But I actually enjoy watching Corrie as a fan."
What else do you enjoy on TV? "I love Bates Motel. Everything appears to be normal, but it has this off-kilter undercurrent. It's beautifully shot and performed and I'd love to be in it and play a goodie for a change. Homes Under The Hammer is my guilty TV pleasure. One Born Every Minute always makes me cry, and I can't watch 24 Hours in A&E because it's too sad."
Would you ever do a reality TV show? "Reality is what makes me turn off! I have no interest in watching it and I feel it's very unlikely that I'd do a reality show. It's just not me. I don't see the point in a show like Big Brother. It feels like people just go on there to become a celebrity."
Watch Kate Ford in Coronation Street, ITV
Get the latest updates, reviews and unmissable series to watch and more!
Thank you for signing up to Whattowatch. You will receive a verification email shortly.
There was a problem. Please refresh the page and try again.